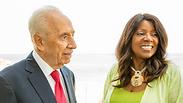 A president and a queen of disco. Peres and Gaynor
Photo: Avi Nishniver
American queen of disco Gloria Gaynor, who will perform at the Charles Bronfman Auditorium in Tel Aviv on Wednesday, told former President Shimon Peres on Monday that she loved Israel and was very excited to be in the country.

The highlight of the meeting at the Peres Center for Peace was Gaynor's a cappella performance of a prayer she had learned in Hebrew, which she sang while standing next to the emotionally moved former president.

Gaynor gave Peres her book "I Will Survive," which features stories from her long career, and told him she believes music connects people. The former president suggested that she also become "an ambassador of peace."

The Peres Center received two other famous visitors on Monday – Brazilian musicians Caetano Veloso and Gilberto Gil, who had warm things to say about Israel ahead of their Tel Aviv concert Tuesday evening.

"The whole thing of coming here has been discussed beforehand because the BDS movement has been making a pressure for us not to come. We didn't accept to cancel the show," Veloso said.

Boycott Calls

Palestinian campaign calls on American rock band to reconsider its October concert in 'apartheid Israel,' saying it is being used 'to divert attention from Israel's human rights abuses and war crimes.'

He added that the duo loved Israel and were happy to perform in "a place of hope for peace." He said they understood the complicated situation in the area, but added that upon seeing the opportunities and Tel Aviv's beauty, one sees how good it could be here.

"The whole thing is hard. We are talking about peace here, this is the house of peace, but it's a hard concept to reach in the situation people are living in this area of the world. And I understand that and I didn't come without knowing that it's not easy."

When the singers were asked about a song they had written about Tel Aviv, Veloso replied that he loved Israel, Tel Aviv and the beach. He said it was a wonderful place, unlike Europe or Brazil, and that he had written the song because he only had good memories from Tel Aviv.

Gil added that the two were very excited to bring their music to Israel and were looking forward to the concert.

Peres told them he was proud and happy that they had become peace ambassadors of the Peres Center and were using their rare talent to promote peace. He added that music connected people and that he was certain they would find many fans in Israel.