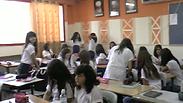 The Druze village of Beit Jann Israel's highest rate of matriculation certificate eligibility among high school students in the 2013-14 school year, according to rankings released on Wednesday by the Education Ministry. The town previously came in at third and second places in the last two years, and by achieving the top spot, it has made good on a promise by its regional council chief.
In general, the rankings show towns with strong investment at the top, with haredi and Arab communities coming in lower.
According to the figures, 94.38 percent of Beit Jann students qualified for a matriculation certificate in the last school year, marking a 2.5 percent increase over the previous year.
Coming in second was Kokhav Ya'ir, which had a rate of 92.11 percent – a 1.3 percent decline. The town has no high school, and its students attend nearby institutions. In third place, 91.3 percent of students in Hof Hasharon Regional Council were eligible for a matriculation certificate, showing an impressive increase of 12.3 percent.
Coming in last was Modi'in Illit, with only 7.3 percent of students being eligible. Rounding out the bottom ten were Qalansawe, Hatzor HaGlilit, El'ad, Jerusalem, Rahat, Jisr az-Zarqa, Rekhasim, Beitar Illit, and Bnei Brak, with none attaining a rate of 50 percent.
All the ranked towns were categorized by socioeconomic development: high, medium, and low. The figures showed where there were the highest increases and decreases in the matriculation rate.
Eshkol Regional Council, which falls into the medium category, had the greatest increase – 17 percent. Kafr Kassem, categorized as low, saw a 15 percent increase. Sakhnin, also put in the low category, had a 13 percent rise.
The sharpest decline was seen in the Bedouin town of Lakia, which falls into the low category – from 75 percent to 50.6 percent in one year.