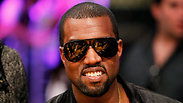 US rapper Kanye West
Photo: Reuters
American rapper Kanye West is on the verge of finalizing a deal with Israeli producers to play one show in the Holy Land in October, most likely at Yarkon Park in Tel Aviv.
Just last April, West, 38, came to Israel with his wife Kim Kardashian on a private visit. He is considered one of the most successful American artists and producers of the last decade.
US rapper Kanye West
He recorded his first rap song at the age of 13. In the mid 1990's he started his career as a producer. Later on he formed his first rap group. During those years he worked with artists such as Jay-Z, Alicia Keys and Janet Jackson. In 2004. he released his debut album "The College Dropout" which sold millions of copies and had multiple hits.
Since then, West has released five other albums, and in total sold more than 21 million copies, and had more than 100 million digital downloads, figures which make him one of the most successful pop artists in history.
He has also won 21 Grammy Awards, has been included on Time's prestigious 100 most influential people's list three times, and this year even appeared on the cover of Time magazine.
West is famous not only for being a musician, his ability to be outrageous or for his fashion label. In 2014, he married Kim Kardashian, one of the world's most famous entertainers.
They have one daughter, and last April they both came to Israel in order to baptize her at the Cathedral of Saint James in the Armenian Quarter of Jerusalem. In December, Kardashian is due to give birth to a boy, and it remains unclear whether she will join her husband for his October show.