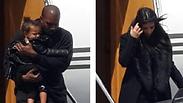 Kim Kardashian and Kanye West land in Israel.
(Photo: Tamar Shiner)
Reality star icon Kim Kardashian and her equally famous husband rapper Kanye West arrived in Israel for the first time on Monday for a personal visit with their daughter North West. Kim's sister, Khloe Kardashian, also tagged along for the visit.

The couple arrived from Armenia – the Kardashian's ancestral homeland.

Kim and Kanye will be followed around with a camera crew as the visit will be documented on "Keeping Up with the Kardashians" – the show that brought the Kardashian family to fame.

The couple has come to Israel in order to visit holy sites in Jerusalem and will be staying in the capital at an undisclosed location.

The couple hired security personnel that specializes in celebrity visits to Israel.

After a short two day stay in Israel, Kim and Kanye will head to Jordan.

Kim Kardashian, 34, is a reality TV star with more than 30 million followers on Twitter and almost the same amount of Instagram followers. She and Kanye West, a famous rapper and musician, married in 2014 in a luxurious ceremony in Florence, Italy.