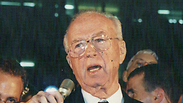 Slain Prime Minister Yitzhak Rabin. Couldn't believe that a Jew would raise his hand on a Jew
Photo: Michael Kramer
I had an opportunity to talk and meet with President Reuven (Rubi) Rivlin this week, after the social media incitement against him appeared on computer screens. Following my short conversation with him, the images and sounds from the eve of Prime Minister Yitzhak Rabin's murder came back to me.

Like and unlike Yitzhak Rabin, Rubi Rivlin is taking the harsh words written and said against him lightly. Although he hasn't added Rabin's disregarding hand gesture, everything else is similar – the words, the tone and the music, the disregard.

Jews vs. Jews

Yoav Zitun, Itay Blumental

Far-right activist Meir Ettinger suspected of involvement with extremist Jewish organization; police open investigation into videos of Netanyahu, Rivlin wearing Nazi uniform.

I recalled that shortly before the prime minister's murder, 20 years ago, pollster Kalman Gayer was asked to conduct a survey among Jews living beyond the Green Line – in Judea, Samaria and the Gaza region. The prime minister presented the survey's results to me: How many of the Jews living beyond the Green Line are against him, how many are willing to protest, how many are willing to pick up a weapon and hurt him.

"One percent is willing to pick up a weapon," the pollster said.

Rabin performed the disregarding hand gesture: "One percent?"

"One percent means 2,000 people," I said to the prime minister and to the pollster sitting next to him. "In order to hurt you, all they need is one person to open fire."

Rabin made another disregarding comment, maybe two, and that was the end of the argument. We, who saw the corpses of cats arriving in carton boxes, the letters with the feces, the Nazi symbols decorating threatening letters, were unimpressed and stuck to the disregarding approach, as the prime minister had taught us.

The ridicule and disregard towards potential assassins continued to characterize Prime Minister Yitzhak Rabin. He couldn't believe that a Jew would raise his hand against a Jew. The commission of inquiry established after the murder, led by former Chief Justice Meir Shamgar, offered a grim picture of ongoing ridicule and disregard towards the possibility of an assassination.

I wanted to tell you, Mr. President, that it takes only one crazy Jew out of eight million Israeli citizens to hurt and kill or injure. Last week, in Jerusalem, we found out there is already one. As a person with bitter experience, 20-year-old experience, my suggestion is: Don't downplay the threats.

There was a large writing on the wall in the Air Force's squadron bases several years ago: "Look around you very carefully – the one you can't see is the one who will bring you down."

Eitan Haber served as Prime Minister Yitzhak Rabin's bureau chief from 1992 to 1995.