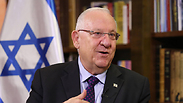 President Reuven Rivlin
Photo: Gil Yohanan
A haredi school announced on Tuesday that it had rescinded an invitation for President Reuven Rivlin to visit the school next Sunday.

The visit to the Kehilat Ya'akov school in the Ramot neighborhood of Jerusalem was planned to coincide with the beginning of the haredi sector's school year, but on Monday the school sent President Rivlin the message, through the Jerusalem mayor's office, that his visit had been canceled.

Sources in the Jerusalem mayor's office said the decision to cancel President Rivlin's visit was made following his condemnation of the the terrorist attack against the Dawabsheh family and his pro-LGBT words following the murder of Shira Banki at the Jerusalem pride parade.They also claimed that pressure to make the decision came from rabbis.

Last year, during his early days in office, President Rivlin visited schoolchildren at the start of the school year in the city of Beit Shemesh, saying: "I came to Beit Shemesh at the start of the year amid controversy overwhether the year starts at the first of Elul or the first of September, out of an understanding that there is a controversy, but this city is one city, and it's time that these disagreements be smoothed out".

A haredi source at the Jerusalem municipality stated that the school canceled President Rivlin's visit because they consider him an unwanted personality.

The president's office said it the statement unfortunate and only hoped the school's lessons on loving thy neighbor would be well-attended.

"I regret the Kehilat Ya'akov school's decision," said Jerusalem Mayor Nir Barkat. "We've been blessed with a president who's rooted in Jerusam, a true friend of the city who is cinstantly working for unity, and we're honored to host him at any place and in any time within the city of Jerusalem.

"The school's choice does not match our duty, especially these days, to educate our children, of every segment in our society to love their neighbor, accept those who are different, be tolerant, and work to promote closeness," said the mayor.