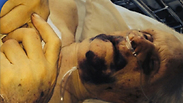 Diana Blog after the attack
Two Holocaust survivors have been brutally attacked in their Amsterdam apartment on August 4, and police are investigating whether the attack was motivated by anti-Semitism.
The married couple has been in a rehabilitation center since the attack. "I have extreme pains," says 86-year-old Diana Blog. She suffered severe bruising, while 87-year-old Shmuel lost his vision and had his thigh bone broken by the assailants' kicking.
Growing Concerns
Op-ed: European leaders must follow their words with action and appoint a dedicated EU special envoy on anti-Semitism to effectively take stock of the situation and work out effective strategies to tackle this disease before it escalates any further.
Both are now confined to wheelchairs, after being completely independent before the robbery.
The Jewish couple, who have been married for 56 years, fell victim to violent abuse when two men entered their apartment disguised as police officers. "They knocked loudly on the door and said, 'open up, police,'" the couple recalls.
Diana, an Auschwitz survivor, says she told her husband not to open the door because she was worried that something was wrong, but Shmuel opened the door – and so began the couple's nightmare.
Immediately after the door was opened, two black-clad men burst in. They began to severely beat the couple. "I told them, 'don't hit my wife,"" Shmuel says tearfully, but the attackers paid no mind and knocked the elderly couple to the ground, kicking them repeatedly.
They then tied them up and began ripping Diana's jewelry off her body. One of the assailants demanded to know where the jewelry was kept. Diana's father was a diamond polisher, so there were more than a few pieces of precious jewelry and family heirlooms, some gifts from her parents, in the home.
"They wanted to chop off my finger because the rings didn't come off fast enough," Diana, who still bears dog bite scars, remembers as she cries. "They called us 'dirty Jews' and said: 'You don't need your jewelry anymore. You've been wearing it for too long. Now it's all ours.'"
The robbers emptied the apartment of valuables and caused extensive property damage.
Emmanuel, the Blogs' son, offered a cash prize of 10,000 euros to anyone with information that would help catch the assailants. Many citizens shocked by the incident increased the reward by a few thousands euros.
Amsterdam police distributed a description of the assailants, while Emmanuel distributed pictures of his injured parents, so "the whole world sees what they did to my parents."
The Blogs struggle to recover from the ordeal. "Those bastards ruined our lives," said Shmuel.
The Dutch Embassy in Israel said regarding the robbery: "This is a shocking incident, a brutal robbery that extremely affected the victims. Dutch police is handling this case with the utmost seriousness, and is investigating it. No suspects have been apprehended yet, so it's difficult to make unequivocal statements about the motives.
"In general, it's important to emphasize that everyone should feel safe in the Netherlands. We will not tolerate any incident of discrimination and anti-Semitism. The Dutch foreign minister recently issued a statement before his meeting with Prime Minister Benjamin Netanyahu, in which he expressed concern about the rising wave of anti-Semitism in Europe.
"It affects Jewish communities first of all, but affects all of our lives, too. Fighting anti-Semitism is part of the protecting the fundamental values of liberty and security for all. The Dutch government's position has remained clear: We will not tolerate anti-Semitism in our society."