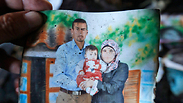 The Dawabsheh family
Photo: EPA
Reham Dawabsheh, who was critically wounded in an arson attack on her home in the Palestinian village of Duma, succumbed to her wounds early on Monday, raising the death toll of the July 31 attack to three.
Reham, 27, suffered from burns to 90 percent of her body and was fighting for her life at the Sheba Medical Center in Ramat Gan for a little over five weeks. The funeral is set to take place at 1pm on Monday.
Her baby son Ali Dawabsheh was burned to death and killed instantly, while her husband Saed Dawabsheh, who suffered burns to 80 percent of his body, fought for his life for a little over a week before succumbing to his wounds.
Her elder son, four-year-old Ahmad, is suffering from burns to 60 percent of his body and still in serious condition, but has shown positive signs when he woke up and communicated with his surroundings only a day before his father died.
Mohamed Dawabsheh, a close family member said: "Since the terror attack, we have not been calm. We are living in a difficult atmosphere. Many people continue to visit us and express their condolences to this day."
"Reham's death hurts us deeply," he added, "and it is not simple to deal with such an event. We knew her condition was bad, but we had hopes that she would come around, but in the end she died a martyr after sacrificing her life for the Palestinian cause."
"We feel great anger at the Israeli government which has failed to reach the killers and criminals," Mohammed continued. We have no faith in the Israeli government. Instead of arresting the people responsible for this act of terror, they encourage hurting us. This time they killed three members of the same family, and we still don't know what's waiting for us."
Reham's father, Hussein, said: "We felt that Reham would not survive. This whole time we were praying for her, and wishing her a speedy recovery, and after all attempts to save her failed, she died a martyr and a hero. Rahem was a strong and brave woman who always helped others at her own cost. I'm sure that no one will be able to forget her."
Dawabsheh spoke about Reham's son Ahmed, saying: "The boy, Ahmed Dawabsheh, is speaking, eating and drinking, but we still feel how sad he is. To this day he still asks, 'Where are my mom and dad? I want them next to me. When will they come? I miss them.' These words make us emotional, and cause us to cry all the time. Its hard for me to accept the situation in which they died martyrs."
Reham had just celebrated her 27th birthday on Sunday. Before her death, her father told Yedioth Ahronot that "she is a strong woman." He recounted the final hours with her in the hospital: "I entered her room and whispered in her ear, I will protect Ahmed until the day I die, he is like my son." Hussein added that "This fire destroyed our whole family."
Dawabsheh worked as a high school teacher in the village of Kasra. On one of the walls in the high school still hangs a flier that was put up after the attack reading, "Our teacher Reham Dewabshe – we are waiting for you."
There has been no formal announcement of progress in the investigation of the attack, which is believed to have been committed by Jewish perpetrators and prompted widespread condemnation. The attack led the Israeli government to take tougher measures against Jewish vigilantes who have repeatedly attacked Palestinians and their property over the years.
Two suspected Jewish extremists have been put in administrative detention and several others were slapped with restraining orders barring them from entering the West Bank. However, no one was directly accused of involvement in the attack.
The police have invoked previously rare steps during the investigation including asking for the publics' help. "Anyone who may know something that may help solve the murders can call the hotline between the hours of 8AM and 10 PM at 050-8386626."