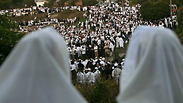 Rosh Hashana in Uman, Ukraine (archives)
Photo: Reuters
KIEV – Several dozen Ukrainian nationalists stormed a tent encampment of ultra-Orthodox visitors in Uman over the weekend, destroying equipment and dismantling parts of the fence surrounding it. A police force was dispatched to the area, but according to witnesses, the officers failed to intervene.

"On Shabbat, when they knew we wouldn't be able to respond or activate the communication device, they simply knocked down the fence, pushed the light poles and security cameras and caused damage estimated at half a million dollars," Eliezer Kirshboim, chairman and director of the Jewish association in Uman told Yedioth Ahronoth. "We are approaching the High Holidays, and this disrupts all our work arrangements."

Brutal Beating

The Jewish community in Amsterdam is in an uproar after an elderly Jewish couple who survived the Holocaust was severely beaten in their home while being called 'dirty Jews.'

Although the information about the incident was transferred to the highest diplomatic ranks, no suspects have been arrested yet.

Kirshboim added that anti-Semitic right-wing activists were seeking to "harass the Jewish Hasidim" in order to gain political points among the local public. "Whoever harasses the Hasidim more has a better chance of winning the elections in October," he said.

According to Kirshboim, the current mayor was "appointed" by members of the nationalist Svoboda party following the revolution in Ukraine. "There is crazy state of anarchy here," he said. "All they want is a bribe and to prove that they are harassing Hasidim."

The Hasidim say that although they recently invested hundreds of thousands of dollars in the city's development, the authorities are still hostile towards them. "We are under the impression that their goal is that the Hasidim won't come to Ukraine at all," Kirshboim said.

Attorney Genadi Beloritski, who represents the Hasidim, explained that although they have made a great contribution to the city's development, the nationalistic groups have a lot of influence on the local authorities and continue to disrupt their activity in the area.

As an example, he pointed to the fact that the authorities have failed to grant the Hasidic tent encampment license, although the Hasidim own 70 percent of its area.