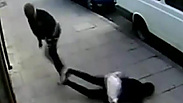 A Jewish teenage boy was seriously wounded in an anti-Semitic attack on Saturday night at a tram stop in northern Manchester, British media reported on Monday.

According to the report, three other young Jewish men, aged 18-20, were also attacked at the Bowker Vale Metrolink station while waiting for the train.

Brutal Beating

The Jewish community in Amsterdam is in an uproar after an elderly Jewish couple who survived the Holocaust was severely beaten in their home while being called 'dirty Jews.'

Police believe there were three attackers, who approached the four at around 11:30pm and assaulted them both verbally and physically.

One of the Jews, a 17-year-old boy, was beaten unconscious and suffered injury to his head. He remains in hospital with a suspected bleeding to the brain.

It is still unclear what the attackers told the four victims, but police believe the comments were anti-Semitic in nature and are investigating it as a hate crime.

The Jewish community in Manchester called the incident "a brutal, unprovoked and cowardly assault," while the community's security organization said it was aiding the families of the wounded young men, and called on the public to provide the police with any information that may lead to the capture of the attackers.

Itamar Eichner contributed to this report.