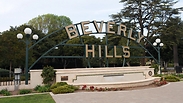 Beverly Hills
Photo: Peter Halmagyi
At a time when the word agreement is mentioned in the United States primarily in the Iranian context, it was the Beverly Hills municipality that has unanimously passed a resolution to sign a strategic agreement with the Israel a few days ago.
The vote on the resolution to sign the agreement, that will formalize cooperation in the fields of water conservation and cybersecurity, was accompanied by voters' cheers.
"This is an excellent agreement with a country that can teach us quite a bit," declared the mayor of Beverly Hills, Julian Gold, adding: "I am very proud of the decision to cooperate with the Israel." After him, one by one, his deputy and members of the council stated that they were equally excited about it.
As part of the strategic agreement, Israel will provide knowledge and experience in the field of water conservation and will provide advice on cybersecurity to the municipality of Beverly Hills. In return, Beverly Hills will consult with Israeli experts and will examine the capabilities of Israeli companies to provide services.
The move could add hundreds of millions of dollars to Israel's coffers in potentially huge transactions such as the enormous desalination plant currently being built by Israeli company IDE in Carlsbad, California.
Beverly Hills is not the first city to sign a strategic agreement with the State of Israel. Initiated by Israel's Consul General in Los Angeles, David Segal, important agreements were signed between the Israel and other municipalities in California.
These include a cooperation agreement for medical research on the subject of the HIV virus in West Hollywood, an agreement relating to water and technological development of technologies with Los Angeles County, and more.
The official signing of the agreement will take place in November at the Wallis Annenberg Center for the Performing Arts in Beverly Hills and will be accompanied by a gala concert of the Israeli philharmonic orchestra conducted by Zubin Mehta.