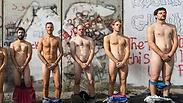 Pro-Palestinian Spanish activists posted photos online Wednesday, naked except for red clown noses in front of the West Bank separation barrier in Jerusalem, meant to show opposition to the wall dividing Israelis from Palestinians.

The group witnessed a somewhat unexpected reaction online however, as members of the conservative-leaning Palestinian community slammed them for lack of respect and "disgusting solidarity.

"They're standing like animals," said one viewer. "They're pigs, nothing more. Our nation is too pure for pigs to visit."

Another commentator said sarcastically, "Now we probably won't get any rain this winter as punishment for this act."

There were also viewers who expressed support for the group however, pointing out that the unusual photos could draw world-wide attention to their cause.

The activists behind the photos are artists who performed on the streets of Bethlehem, Ramallah and East Jerusalem over the last week.

They explained the photos by saying, "When you stand before this shameful fence, all of humanity is naked. The decision to be photographed as naked clowns was meant to remind us that all of humanity has lost its respect by allowing such barriers to exist.

"The 21st Century is the time we need to break barriers and not build new ones. We apologize to the Palestinians whose feelings were hurt in this act. This is not an act against Islam; this is our way of denouncing the barrier."