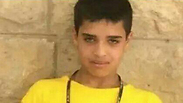 Ahmad Manasra, 13, who stabbed in Israeli boy his age in Jerusalem
A 13-year-old Palestinian boy running around Jerusalem's streets and looking to stick a knife in a 13-year-old Jewish boy's neck does not think, neither before the stabbing nor after it, about Palestinian President Mahmoud Abbas, about the fate of the Palestinian people and about who will enter the gates of Al-Aqsa and who won't.

In most cases, he is not influenced by the imams' sermons at the mosques either, and his political consciousness has yet to be formed.

Wave of Terror

Analysis: Palestinians committing violence are mainly interested in being hailed as heroes online; Arab world surmises that without support from Fatah and Hamas, the 'knife intifada' won't devolve into anarchy.

So why does he arm himself with a knife and go out to kill? Because things are bad at home, because he knows - even at his young age - that the shahidim he wants to be like have gained fame among his people, and mainly because of what he experiences as ongoing humiliation - of his parents, relatives, neighbors, friends - by the Israelis. He isn't familiar with a different life, but he knows this is no life.

Immediately after the start of the first intifada, almost 30 years ago, two IDF officers (I am afraid I have forgotten their names) conducted a sort of survey in the Gaza prison, where the cells had already been filled with terrorists. I call it a "sort of survey" because they interviewed hundreds, but failed to present any statistical findings. The results of the "survey" were handed over to the heads of the defense establishment, who chose other findings from other studies in order to explain to the public why the intifada riots had begun.

Those officers mentioned an interesting point which was not discussed those days: The feelings of humiliation described by the interviewees - also because of the Israeli victories in the wars, but mainly because of the humiliations and small, daily harassments, which only few of Israel's Jews are aware of, as they have never been near the Arabs of the territories in any way, and definitely not in the territories themselves.

Late President Ezer Weizman once said about this situation: The Israelis know every centimeter of the Louvre Museum in Paris, but not a single meter of the Nablus Casbah. Who goes there? Only those known as "the Land of Israel's crazy people."

That finding in the officers' "survey" would likely not have caught my attention had I not found myself in a restaurant on a main street of Tel Aviv on the same evening of the day the document was placed on our desk. It was late at night, and the restaurant owner wanted to close up. In front of our astonished eyes, he bid farewell to his two dishwashers, Palestinians from Gaza, by strongly kicking them in the buttocks.

Not so long after that, at a roadblock near Bethlehem, I saw with my own eyes IDF soldiers forcing an elderly Palestinian to climb the roof of a taxi, dance and sing: "Golani, Golani, Anani Namu, three years are not enough for us."

There were quite a few additional cases, although it should be stressed that over the years the heads of the defense establishment have made a great effort to eradicate this phenomenon. We must also show a lot of appreciation for the tired soldiers and police officers, most of whom exercise restraint despite provocations and an attempt to drag them into conflicts, and try to follow the orders which forbid them to humiliate civilians. In days of uncertainty (an euphemistic word for fear), one must have a decent share of strong nerves in order to act politely towards a Palestinian boy, who wants to know "what time it is" while holding a kitchen knife in the corner of his clothes.

The Palestinian youth's life stinks. Poverty is ripping their families apart. Their freedom of movement is restricted. The educational system they are educated in is collapsing. They hear their parents talk about their national and personal feelings of humiliation. The Palestinian media and social networks are filled with horrific descriptions of the ruling Jews' actions. They see no future.

So what will happen? The forecast isn't promising: Some of the Jews, a people who has been humiliated for many generations, will likely continue to humiliate the Palestinians. They, for their part, will react the way they are reacting today.