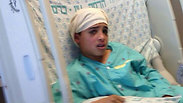 Ahmed Mansra at the hospital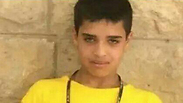 IN PICTURES: 'Dead' 13-year-old terrorist alive and well
Photos emerge of Ahmed Mansra, who stabbed and seriously wounded two Israelis, one of them a boy his age, after Palestinian President Abbas made claims he was 'executed' by Israel; English translation of the speech done by PLO, however, tempers language to 'shot in cold blood.'
Palestinian President Mahmoud Abbas and the Arab media have been claiming since Monday that 13-year-old Ahmed Manasra, who was documented committing a terror attack in Pisgat Ze'ev this week, has been "executed" by Israel.

Except that Dr. Asher Salmon, the deputy director of the Hadassah Medical Center in Jerusalem's Ein Karem, said Thursday that the boy is alive, and is in light-to-moderate condition.

Photos of Mansra from the hospital were released to support those statements.

"I want to report on the situation of the Palestinian teen who was involved in the stabbing in Pisgat Ze'ev," Dr. Salmon said. "He's being properly treated. Medically, I believe we could discharge him in the next few days."

Dr. Asher Salmon talks about situation of Ahmed Mansra

A Jewish 13-year-old boy and a 21-year-old were seriously wounded in the attack perpetrated by Mansra and another, 15-year-old, Palestinian teen.

Mansra, 13, and his cousin, 15, stab passersby in Pisgat Ze'ev (חטיבת דובר המשטרה)

Shortly after the attack, a video of the neutralized Manasra bleeding on the ground went viral online.

Arab media and Palestinian social media pages claimed the video shows that the Israelis executed an innocent boy.

In a speech he made on Wednesday evening, Abbas insisted that the Palestinians would not surrender to the "Israeli aggression" against the Palestinian people, their holy places, homes, and the "executions of children like Ahmed Manasra."

In an English translation of Abbas' speech released by the PLO, however, the Palestinian president is quoted as saying Israel "shoots" Palestinian children in cold blood "as they did with the child Ahmed Manasra," replacing the word "executions" with a more moderate language.

But while Manasra's cousin Hassan was shot to death, Ahmed was not shot - he was hit by an Israeli vehicle, suffering a serious head injury.

The translation was released before the publication of the photos showing Manasra alive.

Security footage from the scene of the attack, however, shows Mansra and his cousin Hassan stabbing passersby.

Elior Levy and Roi Yanovsky contributed to this report.