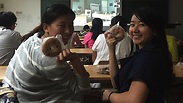 Students participating in the Chinese University Israel
The first student-organized Israeli film festival was recently held in a Beijing university and drew over 100 Chinese students.

For three evenings (September 22nd-25th), students participated in the Chinese University Israel and Jewish Film Festival held at the China Agricultural University. Students learned about Israel's culture and history, as well as Jewish traditions and foods, and even had the chance to eat bagels.

Growing Cooperation

Moshe Glantz, Alexandra Lokash

Despite China's current economic downturn, the Asian market remains one of the most important emerging markets in the world and has the massive potential for Israeli exports.

The film festival organizer, Qi Li, told Tazpit Press Service (TPS) that there had never been an official Israeli-Jewish film festival to her knowledge in China. "I'm proud to say that this is the first Chinese University Israeli Film Festival," Qi Li said to TPS.

'I think it's important to educate the young generation about Israel and let them know that there are many academic and economic opportunities in Israel," said Qi Li, who opened a Weibo account (China's version of Twitter), with the name, Israel Film, to advertise the event.

The students watched the films, Israel Inside, Above and Beyond, Prince of Egypt, and Wunderkinder.

"Students found that the films were a great way for them to learn about Israel. Moreover, the event also brought together students who traveled to Israel and those students who plan to visit Israel in the future," she said. Students were able to see other sides to Israel, and not just the conflict often depicted on Chinese media.

Qi Li is an accounting graduate of San Jose State University in California, where she made many Jewish friends during her college years and frequently visited the Hillel House.

She participated in an Israel advocacy program called BlueStar Fellows in 2012, and subsequently visited Israel on a 10-day trip. A native of Sichuan, China, Qi Li says that the Chinese people hold Jewish intellect and Israel as the startup nation in high regard.

"I saw my friend's post on Weibo on the film festival," said one student who attended the Chinese University Israel and Jewish Film Festival, which was sponsored by the MZ Foundation. "I wanted to attend. I know Israel is a very developed nation."

"I haven't been to Israel yet but it's a place I yearn to visit," said another student.

For Qi Li, the film festival was a way for her to establish a platform that united young Israel advocates in China, the world's most populous nation. "China and Israel only established diplomatic relations in 1992, and while economic and academic exchanges between us have increased dramatically, there are still a lot of opportunities," she said.

Indeed, the China Agricultural University, the site where the film festival took place, is also home to the Chinese-Israeli International Center for Research and Training in Agriculture, which was established through the Center for International Cooperation of the Israel Ministry of Foreign Affairs (MASHAV) in 1993.

Reprinted with permission from Tazpit Press Service.