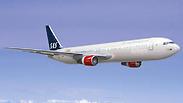 Scandinavian Airlines plane
Photo: SAS
Scandinavian airline ending service to Tel Aviv due to 'political instability'
In Hebrew press release, SAS, which currently runs four weekly flights between Tel Aviv and Copenhagen, cites increasing costs and competition as reasons for the cancellation, while citing political reasons in English release.
Scandinavian airline SAS (Scandinavian Airlines) has decided to end its service to Tel Aviv, as well as Moscow and Ankara, citing "political instability."

But while its English press release announcing the changes referred to political reasons, its Hebrew press release made no mention of this, and instead cited increasing costs and competition as the reason for the cancellation of the routes.

Flights To Frisco

Three flights between Israel and San Francisco per week are scheduled after company survey reveals great demand among high-tech workers; flights will be El-Al's only competition to the West Coast.

The carrier currently runs four weekly flights between Tel Aviv and Copenhagen, and has stated that it is refocusing services on new long- and short-range routes.

These destinations won't be included in the airlines upcoming flight schedule as of March 2016, but the airlines did state that it would resume flights to Israel in the winter of 2016.

SAS began flying to Israel in July of 2012, after it had ended previous routes to Israel nearly 20 years ago for a variety of reasons.

The company claimed that although the Tel Aviv-Copenhagen route has seen a nearly 41 percent increase in passenger traffic during 2014, including 25 percent increase up until July of this year, it needed to suspend all summer schedule flights due to a number of technical reasons.

The company said that the Tel Aviv route was expensive to operate in "stiff competition," and that the there had been reduced crew availability for the night flights, which leave Copenhagen at 10:45pm and arrive in TLV in the early morning hours, before returning to Copenhagen.

"For this reason, we had to reduce the amount of night flights from Copenhagen to Tel Aviv in the summer of 2015, in light of their increased success," a company spokesman said. "Flights will resume their usual schedule in the winter 2015-16, when the flights will take place during the daytime hours (departing Copenhagen at 8:30am and leaving Tel Aviv at 3pm. The day flights will not be available during the summer of 2016," a company representative said.

The company added that their office in Israel would continue to function as usual, including providing services and selling tickets.