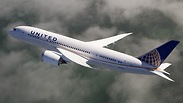 United Airlines Dreamliner (Photo: Rami Zrenger)
It's been a long and turbulent journey, but California's city on the bay is finally due to receive its first direct flights to Tel Aviv, serviced by United Airlines, it was recently announced by the airline.
The decision was made after a market survey conducted by the airline revealed that there was a great demand for flights between the two cities, especially among business people in high-tech.
United's new line will be El Al's only competition for direct flights to the West Coast. According to industry estimates ticket prices for a round-trip flight in economy class will begin at $1,050.
Avi Friedman, United Airlines Israel CEO, said that three weekly flights between the cities would start as of April 1 2016. The flights from Tel Aviv will leave on Tuesdays, Fridays and Sundays at 00:55am and arrive in San Francisco at 6am the same day.
The flights will be on the Boeing 787-9 Dreamliner, the world's most advanced passenger plane. The return flight will depart from San Francisco at 8pm on Wednesdays, Fridays and Sundays and arrive in Tel Aviv at 8pm the following day. The first flight will leave Israel on March 30, 2016. The flight time going westward will be about 15 hours and 14 hours eastwards.
United's reservations system will allow reservations to be made as of October 10, both through travel agents via the website and by United's reservations department in Israel.
"We are very excited to launch direct flights from Tel Aviv to San Francisco, using the Dreamliner, which provides a unique and comfortable flight experience," said Friedman. "This comes in response to our clients' request - to operate direct flights to one of the most popular business and tourist destinations in the US."
US Ambassador to Israel Daniel Shapiro said, "This is certainly welcome news. The direct United Airlines flights between Tel Aviv and San Francisco will continue to strengthen the commercial, cultural and interpersonal relationship between the US and Israel. These flights will encourage technological cooperation between high-tech companies on the West Coast of the US and Israeli startups, as well as allow for personal involvement between the Israelis and Americans."