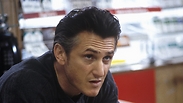 American actor and director Sean Penn, 55, will be making his first visit to Israel in November.

Penn, who won the Oscar Award twice for Best Actor will be the guest of the Israeli humanitarian organization the Israel Forum for International Humanitarian Aid (IsraAID) which works all over the world, and will participate in a conference on the reconstruction of Haiti which was hit by an earthquake in 2010.

In recent years he stayed there for several months, assisted in various areas and worked side by side with Israeli volunteers. During his visit he will meet with, among others, former President Shimon Peres.

Penn was previously married to singer Madonna. He has played in dozens of movies including "Carlito's Way," "Dead Man Walking," "Casualties Of War" and "Mystic River."

Penn, whose father was Jewish, said previously in an interview with an Israeli newspaper, "I think that the power that the US gave to Israel has made it a powerful country and has thus pushed peace further away."