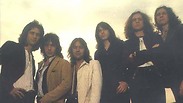 The 1980s are returning to Israel, again: British-American hard rock band Foreigner will arrive in the Holy Land at the Caesarea Amphitheater for two performances on June 14 and June 15, Yedioth Ahronoth has learned.

Another 1980s band headed to Israel is Alphaville, which will perform in the country on June 6.

Not Just Boycotts

Cancellations of concerts due to security concerns are practically a routine matter, but it turns out there are other obstacles to international artists and bands coming to Israel.

Foreigner was founded in 1976 by Mick Jones, former King Crimson member Ian McDonald and Lou Gramm. Throughout its career, the band focused on commercial rock and specialized in soft ballads which reached the top of the charts around the world, mainly in the 1980s.

In 1977, Foreigner released its debut album, which enjoyed relative success and provided the huge hit "Cold as Ice."

The band became particularly popular in the early 1980s when it released its album "4," which included its greatest hit, "Waiting for a Girl Like You," and other successful songs like "Juke Box Hero" and "Urgent."

Foreigner's magic touch continued in the album released in 1984 with another huge hit, "I Want to Know What Love Is." The band released its last album, "Can't Slow Down," in 2009.

Since its establishment, Foreigner has sold nearly 80 million albums around the world, 37.5 million of them in the United States, making it one of the best-selling bands of all times.

Foreigner last performed in Israel in March 2014. Ticket sales for its summer concerts are scheduled to begin in January, and prices are expected range from NIS 299 to NIS 799 ($77-207) per ticket.