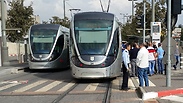 Scene of Pisgat Ze'ev attack
Photo: Eli Mandelbaum
Two Palestinians aged 11 and 14 stabbed a security guard on Tuesday around noon on Jerusalem's light rail in the Pisgat Ze'ev neighborhood and in accordance with legal precendents, the younger of the two won't be prosecuted due to his age.
The victim was wounded moderately. Police shot and wounded the 11-year-old. The 14-year-old attacker was held by train passengers until security forces arrived.
Light rail attack.
The two attackers were Muawiya and Ali Alqam, residents of the Shuafat refugee camp. A source told Ynet that their uncle is a well-known figure in the camp and that this uncle has over the past six weeks called for terrorism against Jews and escalation of clashes.
Pisgat Ze'ev resident Yaakov Tal was on the train car and told Ynet of the attack. "I shouted at the guard, 'shoot, what are you waiting for?'" recalled Tal. "He shot one bullet. I ran towards them. The guard courageously – he must have already been stabbed – ran with me. I held the boy who tried to run and brought him into the car. I saw the knife in the terrorist's hand."
Soon after the attack, an attempted stabbing at Jerusalem's Damascus Gate was foiled when the attacker was shot. He later died of his wounds. The incident was captured by security cameras.
Attempted attack.
Later, at around 3pm, a Palestinian entered the settlement of Tekoa and lunged at people with a knife. Local Border Police shot the terrorist and halted the attack.
Sources in East Jerusalem said the light rail stabbing was the direct result of a video of 13-year-old Ahmed Manasra being questioned by Israeli police leaking to Palestinian media outlets on Saturday. The video aired on Palestinian television showed Shin Bet interrogators shouting at Manasra and showing him surveillance footage of the attack of which he was accused. Manasra initially denied the charges but eventually confessed to carrying out the attack.
As a result of terror attacks by young teens, Yisrael Beytenu decided on Tuesday to propose a bill to permit prison sentences for people under 14 if they are convicted of terrorism.