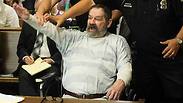 Cross in the courtroom. (Photo: AP)
A white supremacist was sentenced to death on Tuesday after being convicted of shooting to death three people at two Jewish centers in Kansas last year.

Johnson County District Court Judge Thomas Kelly Ryan sentenced Frazier Glenn Cross, 74, to die by lethal injection.

In early September, a jury convicted Cross, a former senior member of the Ku Klux Klan, of the murders and recommended that he be put to death. Cross also was convicted of three counts of attempted murder for shooting at three other people.

The jury found Cross guilty of killing Reat Underwood, 14, and his grandfather, William Corporon, 69, outside the Jewish Community Center of Greater Kansas City, and Terri LaManno, 53, outside a Jewish retirement home, both in Overland Park, Kansas.

After the judge announced his decision, Cross gave the "Heil Hitler" salute and was forcibly removed from the courtroom.

On the way out, Cross said, "One day my spirit will rise from the grave and you'll know I was right. I'm a happy man."

Cross said in court on Tuesday, as he did during the trial, that he wanted to kill Jews because he believes they control the media, financial institutions and the government.

"Jews are destroying the white race," he said, calling himself a patriot. None of those he killed were Jewish.

In court statements before the sentencing, several relatives of victims denounced Cross for his views and spoke of their painful losses. Cross, a military veteran, sat at a court table in a wheel chair, sometimes glancing up at those who spoke at the podium.

Will Corporon, son of William Corporon, glared at Cross as he talked. "You are a coward," he said. "You are not a patriot. You are a disgrace to the uniform you wore."

Cross, representing himself in court, said on Tuesday he should be released because he was justified in trying to kill Jews. "I wanted to kill Jews, not Christians and I do regret it," Cross said. During the trial he faulted the victims for associating with Jews by going to Jewish centers.

Melinda Corporon, wife of William Corporon, told Cross he has never known love. "We are here today to make sure this voice of evil is silenced permanently," she said.

Kansas restored the death penalty in 1994; no one has been executed in the state since 1965.