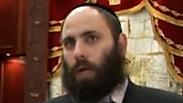 Rabbi Menachem Margolin. Planning emergency meeting
Photo: Eli Mandelbaum
Following Friday night's bloodbath in Paris, Jewish leaders are demanding that the continent's leaders offer special security to the Jewish communities, "which are under constant threats."

Meanwhile, French security forces gave the approval for a prayer rally which was held in the Grand Synagogue of Paris on Sunday by the local Jewish community, following an appeal from the Chief Rabbi of France Haïm Korsia, vice president of the Conference of European Rabbis (CER).

Condemnations

News Agencies and Ynet Reporters

Condemnations flood in from Jordan, Iran, Lebanon, Syria and the Gulf states in reaction to Friday's terrorist attacks in Paris.

Europe's rabbis expressed their "deep shock" Saturday evening "in light of the terrible massacre committed against citizens of all religions on Friday night."

Rabbi Korsia and Rabbi Moshe Levin, CER's executive director and rabbi of the French National Gendarmerie, said they had spoken to French Interior Minister Bernard Cazeneuve and received a promise "to significantly boost security around and within the country's Jewish institutions."

"This is war," they said. "There are still terrorists walking around freely, and the security forces have instructed Paris' citizens to remain in their homes and only go out on urgent cases. Rabbi Bahya says, 'When there is darkness we must turn up the light.' We have asked to let us hold a Malveh Malka (a meal eaten at the conclusion of Shabbat), which was planned in one of the Jewish centers in the Paris suburbs."

Rabbi Menachem Margolin, director of the Rabbinical Center of Europe (RCE), said there was a lot of concern and that the RCE headquarters were in Brussels, where three of the terrorists came from.

"This escalation particularly calls for reinforcing the security measures in the Jewish communities in Europe," he said. "Unfortunately, the Jews are always a preferred target. We plan to hold an emergency meeting as soon as possible to discuss the situation."