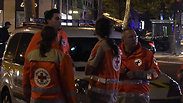 At least 129 people were killed and 352 wounded in Paris late Friday night in a string of simultaneous attacks at several different sites while French President Francois Hollande decided to seal off France's borders - an unprecented measure.
Ninety-nine of the wounded remain in critical condition and the Islamic State officially claimed responsibility for the attack after Hollande accused the group for orchestrating the worst attacks in France since WWII.
ISIS claimed that eight suicide bombers and gunmen had been involved in the attack and Hollande vowed to strike back as he declared three days of national mourning and put the nation's security at its highest level.
At least 118 people were killed in just one of the attack sites, the Bataclan concert hall where some 1,500 people had gathered for a show by an American rock band. A camera caught the chaotic scene as dozens fled the hall through a back door.
"לה מונד"
Many of the concert-goers were held captive at the venue and reportedly killed one at a time until police broke into the building. French police claimed they had killed between three-five attackers in the raid.
The Bataclan however, was just the worst hit, of several different locations.
According to France police, commotion in France started when an initial explosion was heard at France's national soccer stadium at 9:20pm local time, during a match between France and Germany.
Hollande had been present at the match and was evacuated by security forces to the Interior Ministry where he watched events unfold.
A shooting was then reported just five minutes later on Bichat Street, further into the center of the city.
A second shooter then opened fire at nearby Avenue de la Republique at 9:29pm, just one minute before a second explosion rocket the soccer stadium where fans were told to exit their seats and gather on the pitch to avoid panic at the exits.
At 9:38pm, a third shooting occurred at Charonne Street, not far from the first two shootings.
An explosion was then heard on Voltaire Boulevard at 9:43pm where one suicide bomber detonated his explosives, just six minutes before shooting and explosions began at the Bataclan.
The attacks finally ended with a third explosion at the stadium at 9:53 and a final shooting on Beaumarchais Street at 10pm.
All three explosions heard at the soccer stadium were reportedly the result of suicide bombers.
Seven attackers were believed to have died.
Some 1,500 security operatives were active in the city center in wake of the attack.
One of the attackers who blew themselves up at the soccer stadium was found with a Syrian passport. Authorities said he had passed through Greece in October.
Hollande subsequently addressed the nation on television saying a state of emergency had been declared and that France's borders would be closed in wake of the attacks.
While the state of emergency remains in effect, protests are forbidden in Paris and police have the authority to close any businesses they deem fit.
US President Barack Obama addressed the attacks in a public statement calling them, "an attack on all of humanity" and promising France support in bringing the perpetrators to justice.
Prime Minister Benjamin Netanyahu contacted the embassy in Paris and requested that security be boosted as fears continued that the attacks were not over.
Belgium also decided to increase security on their borders, according to Sky News.
Rachel Cadars, Itamar Eichner, Roi Kais, Saar Hess, Adam Evenhaim, Eyal Lehaman, Yoav Tirush, AFP, Reuters and Associated Press contributed to this report.