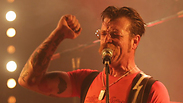 Eagles of Death Metal frontman Jesse Hughes. 'I told Roger Waters, 'F**k you!'
Photo: Yaron Brener
US rock band Eagles of Death Metal, whose concert was the target of a deadly terror attack in Paris on Friday night, is scheduled to perform in Israel this summer. Last July, the group played a gig at Tel Aviv's Barby Club, and after talks with producer Shuki Weiss, its members promised to return next summer.

More than 80 of the band's fans were massacred by gunmen who stormed the Bataclan theater in the French capital during the concert.

The Israeli production of the summer show managed to get in touch with one of Eagles of Death Metal's managers on Saturday and was told that none of the band members were hurt in the attack.

The wife of drummer Julian Dorio told NBC News that he had told her everyone on stage managed to escape and make it to a police station.

The band said in a Facebook post published Saturday, "We are still currently trying to determine the safety and whereabouts of all our band and crew. Our thoughts are with all of the people involved in this tragic situation." The bad news arrived in the evening: Three crewmembers had been killed in the terror attack.

The Eagles of Death Metal, which was founded in the late 1990s, has made a name for itself as a rebellious band with a big mouth. It performed in Tel Aviv last summer despite pressure from the BDS movement to boycott Israel.

During the Israel concert, frontman Jesse Hughes told the audience that the band had got a letter from former Pink Floyd frontman Roger Waters, asking them not to perform in the country. "And you wanna know what I wrote back? Two words: 'F**k you. Ain't nobody gonna keep me from my people here in Tel Aviv," Hughes said.