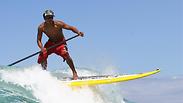 'Great for local surfers to have an event stages in their country' (illustration)
Photo: Shutterstock
The Israeli city of Netanya is joining the global family of professional surfing. The World Surf League (WSL) announced over the weekend that a QS1,500 men's event will be held at the city's "pristine, white-sand" Kontiki Beach on January 16-27, as the first event of the 2016 Qualifying Series sanctioned by WSL Europe.

The 34 best surfers in the world will participate in the global round, competing for the title of world champion in a series of competitions taking place in exotic sites. In Netanya, they will compete for 10 tickets to the main round.

Netanya was selected to host the competition after the Israel Surfing Association suggested the local beach to the international association. Kontiki Beach was chosen after experts ruled that it is capable of creating suitable waves for surfing.

Surf's Up

About 40 Israeli surfers take part in a competition after sundown before a crowd full of spectators.

"Located in the central district of Israel, Netanya is a surf-stoked city with impressive breaks and a large community of surfers," WSL said in a statement. "Kontiki's beach breaks are well known for their hollow conditions, which light up on a northern swell to produce some of the best waves in the country."

The surfers arriving in Israel are also expected to tour the country, and some of them have already begun booking hotel rooms in Netanya.

"It is always exciting to take the QS series to new locations," said WSL Europe Tour Manager Rob Gunning. "After having surfers from Israel competing in our European events for so many years, it is great for the local surfers to have an event staged in their country."

Netanya Mayor Miriam Feirberg said, "We are extremely happy to be hosting an international surfing competition with professional athletes in our city and are hoping for good waves. We are all filled with pride over the competition's arrival here."