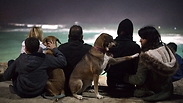 Spectators watch Ashdod night surfing competition.
Photo: Reuters
About 40 Israeli surfers hit the beaches of Ashdod after sundown on Wednesday for a night surfing competition in the Mediterranean Sea.

Spectators gathered to watch the surfers break through the waves in the darkness of the night in the southern stretch of the sea in Ashdod.

Along with Ashdod, Tel Aviv also has its own surf community that takes advantage of good sea conditions year-long across the 15-20 km stretch of beach alongside the city.

Although the water can get cold during the winter, Tel Aviv surfers can be found catching swells all year long, especially at prime beaches for surfers such as the Dolfinarium beach, Hilton beach, and the West Shore situated on the border of Tel Aviv and Jaffa.

Some of the best surfing spots are outside of Tel Aviv, however, such as in nearby Bat Yam, Ashdod, and Ashkelon. In the north, Herzliya, Netanya and the beaches of Beit Yanai and Michmoret offer prime stretches of sea to go out and ride. Further up north, Haifa also has some nice surfing spots, especially in Bat Galim, which means "daughter of the waves" in Hebrew.

Tel Aviv surfers have recently been battling the municipality after surfing was banned in eight of the 13 beaches in the city. The Tel Aviv municipality claimed that the surfers posed a risk to other beach-goers.

Several surfers who defied the ban and went out to surf at the prohibited beaches received hefty fines.

One of the surfers battling the municipality is Arthur Rashkovan, 45, who has been involved in the surfing scene for 30 years. Rashkovan and other surfers were ordered to stop surfing by a life guard at a Tel Aviv beach they usually frequent. "(The lifeguard) claimed we were transgressors. We did not understand what he wanted from us," said Rashkoven of the incident that occurred in December.

According to Rashkoven, the surfing community was not given any notice in advance that the municipality was planning to prohibit surfing at eight of the 13 beaches stretching the Tel Aviv coast and commonly visited by surfers.

However, lifeguards in the city were given orders by the municipality to prohibit surfing at several beaches including Charles Klor, Bograshov, Jerusalem, Gordon, Tel-Baruch, Frishman, and HaTsuk beach.

Furthermore, Hilton beach was divided into two sections, with surfing permitted in only one of them.

As the Tel Aviv surfing community continues to battle the municipality over the surfing ban, the surf is still up in other coastal cities such as Ashdod, where Wednesday's competition took place, and Netanya.