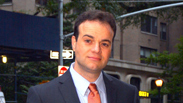 Arik Puder. 'I was supposed to be a physician'
In the past, an anonymous donation was the ultimate way to help those in need. Today, however, an act that is not publicized is seen as if it almost never happened. Non-profit organizations interested in expanding their donor database are forced to share their efforts with the media and talk about the impact they were able to achieve.

Arik Puder, owner of New York-based public relations firm Puder PR, represents some of the biggest Jewish non-profit organizations in the world. Thanks to his Israeli background, he provides them with media coverage that no other American PR specialist is capable of delivering.

Friends of Israel

Major-General (res.) Meir Klifi-Amir, national director and CEO of Friends of the Israel Defense Forces, which just raised $34.5 million at its annual Western Region Gala, tells Ynet about the difficulties of fundraising amid anti-Israel boycotts and what he tells parents who send their sons to serve in the Israeli army.

"Most of the Jewish organizations devote a significant part of their activities and budget, and existence, to Israel," he explains. "When they are looking for a public relations agency in Israel, most of the time there will be language and culture barriers preventing them from best utilizing their services to achieve maximum exposure in Israel and the United States. There are language codes that you just cannot translate.

"In this sense, the fact that I am based in New York not only better connects them to the Israeli media, but also provides these organizations with quality consulting that is well-tuned to the Israeli reality that a Google search can never provide."

Puder was born in the Israeli city of Rishon Lezion, and although New York was always his dream, he actually planned on going to medical school.

"I was supposed to be a physician; I was a paramedic in the Israeli army and volunteered in Magen David Adom. But the more I interacted with other doctors, I realized this was a profession I was not fit for and got cold feet."

When Puder heard about the prospect of communications studies, which back then was a relatively new and attractive academic field in Israel, he immediately enrolled.

"The idea of being a journalist or publicist excited me. During the course of my studies, the field that fascinated me the most was political philosophy – the various ideological views on how countries should be governed. That is why I was looking to combine my passion for both politics and communications."

He remembers the first time he entered the Knesset, the Israeli parliament, the place he so wanted to be part of. "One of my college professors, Dan Semama, took us to the Knesset. Entering the building and being next to these well-known politicians, knowing that this is where the country is being shaped, attracted me very much."

From there, everything started going in the right direction. "Very soon I was working on the well-known primetime political TV show 'Popolitica,' which back then was at its peak and was my dream job since it combined everything I wanted to do."

During his master's studies at the Hebrew University in Jerusalem, Puder was appointed as the Knesset's House Committee's spokesperson. He then served as the media advisor and spokesperson of Minister of Minorities Saleh Tarif, and later on as the media advisor and spokesperson of Immigration and Absorption Minister Yuli Edelstein, who now serves as Knesset speaker.

Puder later became former Minister Tzipi Livni's first media advisor. "Putting aside personal political views, I can say she is a real patriot. If only more Israeli politicians were as dedicated as she is."

Puder becomes more serious when he discusses his impression of how decisions are being made in the Knesset and government. "Generally, when you attend meetings in the government or Knesset - and I took park in many of them and at times very important ones - you discover just how much Israeli politics is affected by matters that are irrelevant, often creating a conflict of interest.

"Politicians will often base their decisions on how much it personally serves their interests rather than how it best serves the country. People aren't aware of how much politicians highly regard media coverage and let their decisions to be significantly affected by it."

After feeling that he had accomplished all he wanted in Israeli politics, Puder decided to become self-employed and open his own PR agency.

"Throughout my work in the Knesset and government, I was exposed to and interacted with many Jewish organizations from around the world, especially in the US, and discovered a fascinating opportunity. Gradually, it became clearer to me that I could probably better utilize my services in New York, where many of my clients are based. When I eventually relocated to the US, I learned that I had something to offer that didn't exist before: I am the first Israeli communications specialist who opened an agency in New York that specializes in Jewish world affairs while being very much attuned to the Israeli reality. This was found to be very appealing to not only many Jewish organizations in the States, but to many institutions in Israel as well."

When I ask why it is so important to these organizations, he explains that only those who are aware of the reality of Israeli daily life can best utilize American non-profit organizations' good intentions to better direct them regarding public recognition.

"Often, Jewish non-profits that are involved in social initiatives in Israel do it through donations that they transfer to Israel-based organizations. These organizations do amazing and important work and their mission is a result of the current situation in Israeli society. When you're based in America, without spending a good amount of time in Israel, you can't fully grasp the extent of what is needed in Israel and when and how your help should be focused on and presented in the media to enable you to fundraise more and to give more."

Puder's presence in the Big Apple brought new opportunities for many Israelis considering expanding their business to the United States or interested in promoting various initiatives outside Israel as well.

"The same way I brought clients to Israel's public sphere, I also turned into the go-to guy for Israeli organizations, whether tourist agencies, real estate investors, etc, looking to get coverage in the American media. The fact that I'm based in New York makes it easier for them. On the one hand, we have the capabilities to communicate with Israeli clients in a way no other American has; on the other hand, we have the skills and experience of any other local American PR agency.

"Often, it's important to the client in Israel to be convinced that whoever is helping market their product understands exactly what it is. Often, especially when it's a product that has to do with a geographical location in Israel or other internal Israeli matters, a local American publicist won't know how to best present it."

The organizations Puder represents include the Charles and Lynn Schusterman Family Foundation, UJA Federation of New York, the World Jewish Congress, the International Fellowship of Christians and Jews, the Shabbos Project, Friends of the IDF (FIDF) and Nefesh B'Nefesh.

"Since I address a need that exists, I'm constantly getting approached by potential new clients both in America and in Israel," he says.

It is for a good reason that Puder presents his work as unique in his field. It certainly looks like achieving results for these types of clients requires a certain level of "know-how" to adapt to Israel's culture, and vice-versa.

"This work has many challenges. First, there is a significant gap between the two cultures - American Jews and Israelis. With the media and organizations in the States there are more barriers, cultural codes, and it is important to adjust to them. With Israelis, the work is a bit different and often requires the actual opposite.

"On top of that, there is a lack of knowledge in Israeli society about American Jewry. For instance, most Israelis don't know what the Reform and Conservative movements are. There is little knowledge of any other Jewish denomination outside of Orthodox Judaism, which leads to a significant dichotomy in attitudes towards religion and creates this huge polarity. This lack of awareness of a more pluralistic form of Judaism, similar to what exists in America, is probably the reason why there is a lot of anti-religious sentiment among secular Israelis."