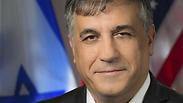 Meir Klifi. 'The soldiers tell the State of Israel's story'
Photo: Shahar Azran
'For foreign donors, there is nothing stronger than an Israeli soldier'
Major-General (res.) Meir Klifi-Amir, national director and CEO of Friends of the Israel Defense Forces, which just raised $34.5 million at its annual Western Region Gala, tells Ynet about the difficulties of fundraising amid anti-Israel boycotts and what he tells parents who send their sons to serve in the Israeli army.
The morning after the annual Friends of the Israel Defense Forces (FIDF) Western Region Gala chaired by Haim and Cheryl Saban, the organization's CEO, Major-General (res.) Meir Klifi-Amir, sat down for breakfast at the Beverly Hilton in California. He appeared satisfied with the sum raised that evening -- $34.5 million, which will be used for welfare and educational programs for IDF soldiers

"The soldiers tell the State of Israel's story and connect the FIDF members and donors to the state's roots," Klifi says. "The organization was founded in 1981 by a group of Holocaust survivors, who believed that only through the IDF's strength will we be able to prevent another Holocaust. The message is that only a strong and winning IDF can secure our survival in Israel, and not only that, but that a strong IDF basically defends the entire world Jewry."

The resume of 56-year-old Klifi, a retired major-general, includes his roles as a fighter and commander in the 202nd Paratrooper Battalion, Operations Directorate officer, commander of the Paratroopers' reserve unit and commander of the Givati Brigade. After serving as the military secretary to Prime Ministers Ehud Olmert and Benjamin Netanyahu's, he retired from the IDF.

Fame & Funds

Saban-led Friends of the IDF fundraiser in Beverly Hills draws Stallone, Schwarzenegger, Streisand – and $9 million from Oracle founder.

His wife, Brigadier-General Gila Klifi-Amir, served as the IDF chief of staff's advisor on women's affairs. They have three children and live in New York due to his work at the FIDF.

"It took some time to convince me to accept this position," says Klifi, who took office about 14 months ago. "I understood the magnitude and importance of the role, and wanted to make sure that I would be able to fulfill it in the best way possible."

It seems he can relax now, after the organization succeeded for the first time in its history in raising a record amount of $100 million in 2014. Today the organization has 14 regional offices across the US and one in Panama, and its number of donors is increasing, currently standing at 200,000.

Klifi says there is a growing awareness of the importance of contributing to the IDF. We spoke as he prepared to welcome some 100 FIDF supporters arriving in Israel as part of an annual delegation. Their itinerary in Israel included visits to IDF bases, meetings with soldiers and commanders and participating in the annual event organized by the FIDF in honor of the IDF's soldiers and commanders.

"The goal is to increase the number of offices and the number of donors. We want more Jews and non-Jews to get to know the organization and donate to the IDF," he says.

Doesn't fund raising become more difficult at times of anti-Israel boycotts?

"It's more complicated. That's why we have to invest more in the Israeli and Jewish story. The story of the state and the IDF are our best ambassadors. The FIDF donors see their donation as a contribution to securing the State of Israel's existence, a sort of investment in the state's future.

"I get excited every time I see the donors' deep love for Israel, their solidarity, the patriotism. The donors arriving in Israel this week are saying that there is nothing stronger for them than embracing the Israeli soldier."
'Strong families create a strong state'
Klifi talks about FIDF's flagship programs, including the IMPACT! scholarship program, which last year granted 3,300 scholarships to former combat soldiers.

He also talks about the lone soldiers program, which last year supported some 2,500 lone soldiers during and after their military service. Klifi also discusses the organization's work during Operation Protective Edge, when it donated 50,000 hygiene sets and clothing to soldiers in the battlefield and transferred millions of dollars for the rehabilitation of wounded soldiers, funded thousands of plane tickets for lone soldiers to visit their families abroad and expanded the support for bereaved families.

Klifi is proud of the scholarship program and the organization's educational program in higher education institutions in Israel.

"Today there are already 6,000 graduates of higher education institutions in Israel, who would not have achieved it without the FIDF donation. We have clear criteria for who is entitled to a scholarship, which includes $16,000 for four years for fighters and combat-supporting forces that come from a problematic socioeconomic background.

"Ninety-seven percent of those who receive the scholarship will complete their degree, and for them it's a gift for life, a window to a better future. This way they will also stay in Israel, break out of the cycle of poverty and start families, and strong families create a strong state."

Varda Pomerantz, who lost her son, Staff Sergeant Daniel Pomerantz in an attack on an armored personnel carrier in Gaza, met the parents of Sergeant Max Steinberg , a Golani fighter and a lone soldier who was killed in the same incident, at the gala event. How difficult is it to convince parents to send their sons to serve in the IDF?

"It's not an easy task," he admits. "It's hard to understand the nobility of these young guys, who voluntarily choose to leave everything behind - their family, the good life, the study options - in order to defend the state.

"I will never forget the image of the 30,000 people who participated in Max's funeral. Max arrived in Israel at the age of 24 after completing his studies at a college in Los Angeles. It was hard to hold back the tears when Max's father, Stuart, said during the funeral: 'You are a real hero, and we know why you came to Israel. It's because of the people here. We decided that you would be buried in Israel as a lone soldier, so that you stay in Israel forever.'

"We are in constant contact with the parents, and as far as we are concerned there are no lone soldiers in Israel. We support them from the moment they enlist and help with everything at any time.

"Some arrive at our enlistment ages, and there are those who come when they're 27, after completing a degree. Some of them go on to make aliyah, becoming the IDF's best ambassadors in the world. They are exposed to values, to combat ethics, to the IDF's truth, and it's reflected in the hasbara."

You nurture young leadership in the organization. Why?

"This year, representatives of the FIDF's young leadership, who are from the third generation of Holocaust survivors, will join the trip to Poland, where the organization's representatives travel with Holocaust survivors. They will arrive in order to leave them connected to the State of Israel and to Judaism.

"These young people are growing up in a generation in which the State of Israel is already an established fact, and the state's existence must not be taken for granted. There is nothing that compares to what we've done throughout the state's 67 years of existence. Yet every day, when I open my eyes and see that the state exists, it's a miracle to me."