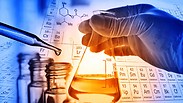 'Israel is once again proving its major contribution to scientific research'
Photo: Shutterstock
The European Research Council (ERC) has announced the awarding of its Starting Grants to 291 early-career researchers, 24 of them from Israel - putting Israel in the first place in the number of research grants per capita.

The grants, which are awarded under the "excellent science" pillar of Horizon 2020, the European Union's research and innovation program, will enable the young researchers to set up their own research teams and pursue ground-breaking ideas.

Ground-Breaking Research

A new material that is flexible and sensitive to touch has been developed at the Technion in Haifa. In addition, it can repair itself if it gets cut or scratched.

The Ministry of Science, Technology and Space invests a lot of funds in the Horizon 2020 program, allowing Israelis to compete for the generous research grants, which could reach up to NIS 6 million (about $1.5 million).

"Israel is once again proving its major contribution to scientific research, the innovation and vitality of the young researchers and their ability to think outside the box," Science Minister Ofir Akunis said Tuesday.

Of the 24 Israeli early-career researchers (four women and 20 men), 22 come from the fields of physics, engineering and life sciences and two from the field of humanities and social sciences.

A distribution by the host institution puts Tel Aviv University in the lead with eight winning researchers, following by the Hebrew University with five, the Weizmann Institute of Science and the Technion with four each, and Haifa, Bar-Ilan and Ben-Gurion universities with one winner each.