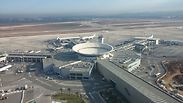 Ben-Gurion Airport. Drop in tourist arrivals from Europe
Photo: Israel Airports Authority
Figures released by Israel's Tourism Ministry point to a sharp decline in incoming tourism from Europe, likely due to the current wave of terror in the country and the recent terror attacks in France.

According to the figures, November saw a drop of more than 30 percent in the number of tourists arriving from Europe compared to November 2013, and a 10 percent drop from November 2014 - immediately after Operation Protective Edge in Gaza.

Not an Alternative

Following Kremlin's ban on tourist travel to Turkey, Israeli tourism industry officials say the Holy Land has nothing to offer Russian vacationers compared to what they received in Turkish all-inclusive resorts and luxury hotels in southern Sinai.

The data, compiled by the Tourism Ministry's statistics department, point to a 58 percent drop from November 2013 in tourist entries from Italy, a 45 percent drop in tourism from Finland, a 36 percent drop in tourism from Germany and a 59 percent drop in tourism from Russia, although the decline in the number of Russian tourists is mostly affected by the difficult economic situation there rather than by the situation in Israel.

In addition, there was a 24 percent drop in the number of tourists from France (after the terror attacks in Paris), Sweden, Denmark and Spain, a 28 percent drop in tourism from Austria, a 29 percent drop in tourism from Norway and an 18 percent drop in tourism from Holland.

A significant decline was also recorded in tourism from Eastern Asia: A 42 percent drop from Japan, a 41 percent drop from Taiwan and a 50 percent drop from South Korea.

November did see a significant rise in the number of visitors from China (69 percent) and Thailand (55 percent), but that was mostly due to the increase in work permits granted to foreign workers. In absolute numbers, there were only 202 visitors from Thailand and about 4,770 from China.