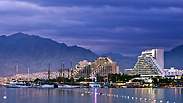 Eilat. Can't compete with Turkish resorts
Photo: Shutterstock
'Russian tourists will not replace Turkey with Israel'
Following Kremlin's ban on tourist travel to Turkey, Israeli tourism industry officials say the Holy Land has nothing to offer Russian vacationers compared to what they received in Turkish all-inclusive resorts and luxury hotels in southern Sinai.
Israeli travel agents have been calling on the government to increase its marketing budgets in Russia in order to attract the Russian tourists who are staying away from Sharm el-Sheikh and Turkey, but sources in the Israeli tourism industry believe only a small number of these tourists will come to Israel as "we have nothing to offer them compared to what they received in the Turkish resorts and luxury hotels in southern Sinai."

Last month, a Russian passenger plane crashed in Sinai in an attack which the Islamic State claimed responsibility for, leaving 224 passengers and crew members dead. Last week, a Russian warplane was downed after entering Turkey's airspace.

Hotels in Decline

Israel Hotel Association's statistics for October 2015 show a sharp 21% decline in tourist stays compared to same month in 2013. Decline in tourist entries into country is much milder, however. Where, then, are tourists staying?

These two incidents are expected to lead to a sharp drop in Russian tourism to both Egypt and Turkey, and Russian travelers are looking for an alternative for the cold winter months.

"What exactly can we offer tourists who have gotten used to all-inclusive hotels at a level which cannot be found anywhere else in the world?" says a Israeli travel agent who is active in the Russian market. "Hotels in Netanya, Ashdod or Ashkelon? Hotels in Eilat?

"Along Israel's entire shoreline, there are hardly any hotels which meet the Turkish hotels' standards. Not to mention the level of service, accommodation, and the prices of course."
'Russian tourism corporations may go bankrupt'
A total of 4.479 million tourists from Russia visited Turkey in 2014, making up more than 12% of all tourists arriving in the country. While 2015 saw a 20% drop in the number of Russian tourists in Turkey, they still made up about 10% of all of the country's tourists - an extremely significant figure.

"If Russian tourism to Turkey stops, many tourism corporations in Russia may god bankrupt, and many hotels in Antalya could find themselves in a big problem," the Israeli travel agent says. "But with all our desire to capture a share of the Russian market after the tourists abandoned Sharm, and following Putin's call on Russian citizens not to travel to Turkey, the chance of seeing masses of Russian tourists flooding Israel is very slim."

In any event, industry officials say, the Tourism Ministry is looking into ways to increase tourism from Russia to Israel together with leading agents in the Russian market, including through major financial investments. This will likely not happen in the coming winter, but there is a good chance Israel will succeed in bringing more tourists from Russia ahead of the summer of 2016.

Meanwhile, Turkish Airlines has said it will allow its Russian customers to change their flights dates and destinations after the Kremlin's announcement of a possible aviation boycott between the two countries. At the moment, the flights between Turkey and Russia are still going ahead as scheduled.