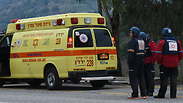 Israel-Lebanon border, Monday
Photo: Avihu Shapira
Nasrallah settled an account, but did so with caution
Analysis: It's too soon to tell if the Hezbollah leader got the revenge he sought out for the death of Samir Kuntar, since there were no casualties on the Israeli side in the attack on Mount Dov. It does, however, seem like the message from Israel of a severe and destructive retaliation has been understood.
The roadside minefield that was planted on the slopes of Mount Dov to target IDF patrols was probably part of an operation to avenge the assassination of Samir Kuntar. Kuntar was killed in an airstrike two weeks ago at a suburb on the outskirts of Damascus, and Hezbollah leader Hassan Nasrallah has repeatedly claimed that Israel was behind it.

He might be right. After all, the Druze terrorist, who was released from Israeli prison, has returned to his evil ways on the Syrian border in the service of Hezbollah and Iran, and Israel had good reason to believe he was about to launch attacks against Israeli communities in the Golan Heights.

A bomb exploded next to IDF forces on the Lebanese border (צילום: אביהו שפירא)

Since the assassination, Nasrallah has vowed to take revenge against Israel in three different speeches. The attack on Monday was probably his way of settling the account. Just in case, so others in the Middle East see that Nasrallah keeps his promises, Hezbollah claimed responsibility for the attack and announced the explosives on Mount Dov were planted by the "Samir Kuntar Brigades."

However, it's too early to declare that this as the end of this round of assassination, retaliation, and retaliation over the retaliation between the IDF and Hezbollah. There were no casualties among our troops in this attack, and that is why Nasrallah might decide that the account on Kuntar remains unsettled. There is still a possibility that Hezbollah would try to launch additional attacks against Israel on the northern border, and particularly on Mount Dov.

The precautions taken over the past couple of weeks on the northern border and on the Mount Hermon slopes should, therefore, stay in place. In addition, it is perfectly reasonable to assume that under the cover of the stormy weather that descended on the area over the past few days, Hezbollah planted even more explosives and perhaps even anti-tank launchers ready to ambush IDF troops in other places along the northern border. That is why the Galilee Division, which is responsible for the area the bomb was planted in, closed off a few of the roads.

This round might also not be done as far as Israel is concerned, which means IDF soldiers and farmers working near the border fence should be particularly cautious and remain on high alert.

When it became apparent to Israel that Nasrallah intends to follow up on his threats - and this time Military Intelligence's predictions were correct and accurate - the prime minister, defense minister and IDF chief of staff, as well as security sources speaking to the media, were all quick to stress that Israel would respond with force to any kind of revenge attack committed by Hezbollah.

A year ago, Hezbollah committed a revenge attack after the IAF, according to foreign sources, bombed a patrol of commanders from Hezbollah, the Iranian Revolutionary Guard Corps and the Syrian Army, who were scouting the area for a series of terror attacks they were planning against Israel. Jihad Mughniyeh and an Iranian general were killed in the airstrike. Hezbollah took its revenge 11 days later by firing anti-tank missiles at a Givati patrol making its way from Mount Dov to the Galilee panhandle.

Two IDF fighters were killed then, but Israel chose restraint in order to avoid further escalation. It might be that someone in the defense establishment thought in hindsight that this had been a mistake. So this time the heads of state and the IDF announced in advance and in a way that leaves no room for doubt that if Hezbollah launched a revenge attack, the Israeli retaliation would be severe and destructive.

The message was fully understood not just by Hezbollah, but likely also by Tehran and by the heads of large communities in Lebanon. This led to Hezbollah being pressured by Iran, Russia (via the Syrian regime) and inside Lebanon not to act or to settle for a symbolic retaliation.

Nasrallah probably responded to the pressure with more than relief. It is likely that he also did not want to get involved with Israel over Samir Kuntar. He therefore probably decided to instruct his people to carry out a less serious activity as far as Hezbollah's terror attacks go: a minefield on the slopes of Mount Dov.

On this point it is also important to understand that the IDF and Hezbollah work opposite one another according to a set of rules that have been consolidated since the Second Lebanon War. It explains, among other things, why Hezbollah has preferred over the last few years to operate in the Mount Dov area (Jabal Ru'us) on the western ridge of the Hermon mountain.

This area is known to the Lebanese - and especially to Hezbollah - as the Shebaa Farms and is, they claim, sovereign Lebanese territory. This is despite Mount Dov having been under Syrian rule until Israel gained control over the area in the Six Day War. But the Lebanese claim it is their territory, going by old French Mandate maps.

Hezbollah's perception is thus that an attack against the IDF in the Mount Dov area is not thought of as breach of Israel's sovereignty but rather as a legitimate action in a kind of "playground" that actually belongs to Lebanon. In Hezbollah's view, there is no legitimacy in Israel viewing activity in Har Dov as an attack on its sovereignty that would justify a serious military response.
Hezbollah estimates there will not be losses
The type of attack – a minefield – is also no coincidence. It is reasonable to estimate that this method was chosen precisely because Hezbollah expects that an attack of this nature will not cause heavy damage or losses to the IDF, and therefore will not lead to escalation.

Indeed, Hezbollah knows full well that the IDF has learned over the years how to deal with explosives in a way that will not cause substantial losses among its soldiers.

They know that the army uses heavy-duty vehicles in suspicious locations so that even a large explosion next to them would not cause significant damage or losses.

And indeed, this is exactly what happened on Monday. The IDF incurred no losses; Hezbollah can claim, as it is quick to do, that it avenged Kuntar's death; the IDF unleashed its artillery causing damage and injuries in several south Lebanon villages – and everyone can be satisfied that an escalation was prevented without denting anyone's prestige, and that each side has now been deterred.

This may be surreal but such a volatile reality dictates that these strange rules be observed in the "playgrounds" on our borders. Nonetheless, as mentioned, it is important to remain alert. It is quite possible that Hezbollah is preparing further surprises for us in the area, and we cannot be caught unprepared.