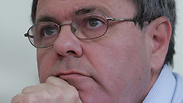 Foreign Ministry officials believe that there is no longer any chance that Brazil will approve the appointment of settler leader Dani Dayan as Israel's ambassador, following the South American country's strenuous objections.

These officials advised the political leadership to renounce the former head of the Yesha Council's appointment as envoy to Brazil, and appoint him to a diplomatic post in a different country.

When a country does not want to approve the appointment of an ambassador, it is customary to transmit hushed messages conveying that it would be better to retract the candidate's appointment so as not to encounter rejection. But in this case Brazil actively rejected it.

The Foreign Ministry reached its conclusion after analyzing the messages coming from Brazil in recent days, which suggested the Brazilians had decided finally not to approve Dayan's appointment. Nevertheless, the heads of the Foreign Ministry have not cried uncle and are giving it one last chance.

Next week Brazil's ambassador to Israel will reportedly be summoned to the Ministry of Foreign Affairs for a discussion, during which the gravity with which Israel views the non-approval of Dayan's appointment will be made clear to him. A senior Foreign Ministry official said that only after all options have been exhausted, including initiating a phone call between Prime Minister Benjamin Netanyahu and Brazil's President Dilma Rousseff, will they "calculate a new move".

One of the options being considered is to nominate Dayan as ambassador to another country and to send a new ambassador to Brazil. Dayan's name has already been mentioned as a possible candidate for the position of Israel's Consul General in New York or Los Angeles.

Ironically, although he will most likely not be appointed for the job, on Monday Dayan took part in a representatives' course, in which ambassadors and consuls participate in prior to leaving on a diplomatic mission.