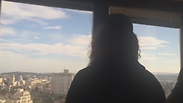 Mordechai Mayer, 18, from Ma'ale Adumim in the West Bank, arrested five months ago on an administrative detention order on suspicion of belonging to a Jewish terrorist organization was released last Sunday without being charged but was given a restraining order barring him from the West Bank.

Mayer was released the day the indictments were filed in the Dawabsheh murder case. He was arrested a few days after the attack on the Dawabsheh family home in Duma. "It was all a big lie from beginning to end," he told Ynet on Tuesday. "They just harassed me, just as they did to all the others who were detained."

Mayer was taken initially to Rimonim prison for two months and was then moved to Eshel prison. Also detained at the same time were Evyatar Slonim and Meir Ettinger, considered one of the main targets of the Shabak's Judea Brigade and the leader of the "Revolt" group. Ettinger is still in detention, and in the coming days it will be decided whether he will be released. As of now there is no knowledge of an indictment being prepared against him.

Mayer recounted that "six or seven policemen came for me in the morning, issued me with an administrative order and told me I was going to administrative detention. They did not let me take anything. They threw me right away into a cell without explanations. They hurled false accusations at me and did not let me speak at all. I feel that they have stolen five months of my life for nothing. There is a sense that they are hunting after those who wear a kippah and have peyot."

Mayer spent some of his time in detention with Slonim: "We mainly learned Torah together and strengthened our love of the Torah and the country", he said.

Mayer's parents, Gedalya and Sarah, American citizens who made aliyah several years ago, say they feel helpless against the law enforcement system. "It is as if they took our voice away," said Sarah. "They just took my child into custody and I can't say anything. No one listens to me."

Gedalya said "we knew from the beginning that he was a victim in this case but nobody would listen to us. I was sure that once I picked him up from prison I would feel angry at the system, but I felt disappointment, especially regarding the country I chose to move to and settle down in."

The Shin Bet stated in response: "Mordechai Mayer belongs to the Jewish terrorist organization, some of whose members were served indictments on Sunday for serious crimes. The basis for his detention was the immediate risk he posed as a member of that organization, as one who was involved in its activities.

"At the end of the investigation and after a re-examination of the risk posed by Mayer, the competent authorities decided that a restraining order ensuring Mayer will remain under nighttime house arrest and will not be allowed to enter the West Bank could be a proportionate response to the risk he poses. On the basis of this examination it was decided to convert the administrative detention order to a restraining order," concluded the Shin Bet statement.

Attorney Itzik Bam, who represents Mayer on behalf of the legal organization Honenu said: "I call on an investigation to be opened and a reexamination of all the administrative orders given to dozens of boys."