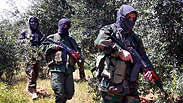 Hezbollah fighters in Syria
Photo: AP
Officials in the West and the Middle East have expressed doubt over a Daily Beast report on Monday that Russia is directly arming Hezbollah as part of its aid to President Bashar Assad in Syria.

According to the report, Moscow is providing the Lebanese terror organization with long-range tactical missiles, laser guided rockets, and anti-tank weapons, but the officials insist: "This report is baseless. This is an awkward attempt by Hezbollah to plant disinformation via a respected Western news site in order to muddy the waters between Israel and Russia."

Last September, when Moscow became involved in the civil war in Syria, Russian President Vladimir Putin and Prime Minister Benjamin Netanyahu agreed on Russian-Israeli military cooperation to prevent "unnecessary accidents." The details of this agreement were ironed out in meetings between a Russian delegation led by the Russian deputy chief of staff and an Israeli team led by IDF deputy chief Maj.-Gen. Yair Golan.

The Russian team visited Israel about three weeks ago, when it stressed to the IDF that as long as Israel doesn't get in the way of Russia protecting its vital security interests in the region, Russia would not get in Israel's way when it seeks to protect its own security interests.

The story in The Daily Beast cites Hezbollah field commanders fighting alongside the Assad regime in Syria, who claimed the supplies from Russia are given to them with "no strings attached." They also claimed the co-dependency between Moscow and Hezbollah is increasing.

"We are strategic allies in the Middle East right now – the Russians are our allies and give us weapons," said one of the Hezbollah field commanders, who dubbed himself Commander Bakr, adding that the Russian airstrikes in Syria changed the conditions of fighting on the ground.

Except that these claims entirely contradict the agreements reportedly reached between Putin and Netanyahu in September. Netanyahu, it was later implied, also received the green light to launch a campaign to prevent military escalation on the northern border as a whole - not just with Syria, but with all of the countries in the radical Shi'ite axis led by Iran, with whom Russia is now allied and is in constant dialogue.

If indeed there were agreements reached about setting up a mechanism for coordination between the Russian forces operating in Assad's "smaller Syria" and the IDF, and if such a mechanism has indeed been set up and has begun operating, it could be an indirect channel not just between Israel and Russia, but also between Israel and the Syrian army, Hezbollah, and even the Iranians.

Either way, Moscow has yet to comment on the reports about its alleged cooperation with Hezbollah, or on reports it plans to put boots on the ground in Syria. Hezbollah did not issue an official response to the report either.