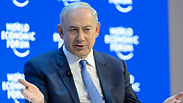 Netanyahu in Davos
Photo: EPA
Prime Minister Benjamin Netanyahu has expressed hope in an interview with Turkish news agency Anadolu towards the normalization of ties with Turkey.

"We are talking to them (Turkish officials), and they are talking to us and if we succeed, that will be good for both countries," Netanyahu told the news agency on the sidelines of the World Economic Forum in Davos.

"We are always hopeful," he added.

Last month, it was reported that Mossad chief Yossi Cohen, at the time Israel's national security advisor, and Joseph Ciechanover, Netanyahu's envoy to talks with Turkey, met in secret with the Turkish Foreign Ministry's director general Feridun Hadi Sinirlioğlu in Switzerland. The representatives of the two countries were able to reach a number of understandings towards the normalization of relations.

Turkish President Recep Tayyip Erdogan also expressed his desire to normalize ties with Israel, some five years after the Israeli raid on the Marmara flotilla that tried to break the blockade over Gaza. Ten Turkish citizens were killed during the raid.

"Israel is in need of a country like Turkey in the region," Erdogan said. "And we too must accept that we need Israel. This is a reality in the region."

Despite this, Ankara is still raising obstacles. A senior Turkish official stressed that Turkey demands complete, free access to the Gaza Strip.

The Turkish official, who spoke to Turkish newspaper Hurriyet, said Turkey wants access so that it can provide any aid necessary to the Palestinians living there. "Turkey is committed to reject any limitations on Turkish aid to Gaza," said the source.