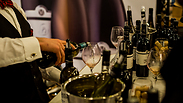 As the Israeli wine industry continues to expand, more international markets are opening up to the variety of wines that Israel's winemakers have to offer.

The 2016 Sommelier Wine Exhibition, organized by the Israel Export Institute (IEI) featured 80 different Israeli wineries that displayed their goods in Tel Aviv's Culture Palace on Wednesday, January 27. The exhibition drew representatives from around the world who attended the event, with several signing contracts with Israeli wineries.

According to IEI data, Israeli wine and spirits exports grew to $39 million in 2015, a six percent increase compared to the previous year, as new markets opened up.

"Traditionally, the Israeli wine export was based on the demand for kosher wine by Jewish communities around the world. However, a recent trend sees Israeli wines gaining international recognition and respect also in countries where the kosher issue is irrelevant," Yaara Shimoni, the IEI wine and fresh produce manager told Tazpit Press Service (TPS).

Such markets include countries like China, Japan and Korea. Shimoni also noted the rise in exports to Asian markets over the past year.

"The Japanese market is now our third largest export destination. We are talking about a very discerning palate, the Japanese only seek out 'super premium' rated products. We were just notified that our Yarden Chardonnay wine will now be served to Japan Airlines' first class passengers, for example, " Anat Levi, CEO of the Golan Heights Winery told TPS.

The Golan Heights Winery is Israel's largest commercial winery, whose wines have won many international awards. However, it was not only the well known and large Israeli wineries that impressed Asian wine experts.

For example SPHERA, is a small Israeli winery which specializes in white wines and has signed an extensive deal with a large Hong Kong-based client.

"Hong Kong is not looking for wines just because they are kosher, they look for great quality and taste, and we are very proud that such a client was so impressed with our product," Doron Rav Hon, SPHERA's head winemaker told TPS.

"We are a rather small boutique winery; we specialize in one field, but we execute it well. To be noticed and liked by the Hong Kong consumers is a great achievement for us," said Rav Hon.

The Sommelier exhibition in Tel Aviv drew representatives from Japan's wine and spirits industry as well. Experts from the Niigata based Shirataki Sake Company arrived to experience Israeli spirits and share their Japanese rice wine.

According to Daijiro Hosaka, Shirataki's import and export manager, "Israel was discovered by Japan about one year ago. It's a very open and diverse industry we find fascinating and impressive."

In addition to interest from the Asian market, representatives of the veteran South American wine industry also visited the Sommelier exhibition and had high praise for Israeli wines.

"There are very interesting new but indigenous grapes to discover in Israel. We were especially surprised with the quality of the white wines in Israel," Martin Duran, a sommelier and wine expert from Chile, told TPS.

European markets are also interested in Israeli wines. The Golan Heights Winery counts among its buyers several European nations, including Scandinavian countries. In Sweden, Norway and Finland the government has a monopoly on the sale of alcoholic products.

"By now we applied to, and won governmental monopoly bids in Finland, Norway and Denmark. We were constantly surprised by this, since these countries are not the biggest fans of Israel," explained Anat Levi, CEO of the Golan Heights Winery.

While Scandinavian countries are politically known to be in the forefront of the campaign to boycott Israeli goods made in the Golan Heights, Levi revealed to TPS that the extent of her winery's export to those countries has only expanded in the past four years.

"Politics aside, I believe their experts choose the wines solely on the basis of quality and tasting," concluded Levi.