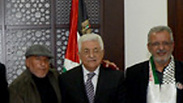 Abbas meets with terrorists' families
Mere hours after the terror attack at the Damascus Gate in Jerusalem on Wednesday, which claimed the life of a Border Policewoman, Palestinian President Mahmoud Abbas met with families of terrorists in Ramallah.

The attack in Jerusalem on Wednesday was one of the most serious attacks in the current wave of violence, when three terrorists used guns and knives and were equipped with explosives as well. Border Policewoman Hadar Cohen, 19, was killed in the attack while a fellow Border Policewoman and a young man were wounded. The three terrorists were shot dead at the scene by security forces.

Abbas welcomed in his office the families of 11 terrorists from the Jerusalem area who committed attacks, some very grave, over the past four months and whose bodies are still held by Israel.

Abbas meets with families of terrorists in Ramallah

Among them was the family of Baha Aliyan from Jabel Mukaber in East Jerusalem, who committed a combined stabbing and shooting attack in October on a bus in East Talpiot, murdering three Israelis - Haviv Haim, 78, and Alon Govberg, 51, and Richard Lakin, 76.

Another family was that of Alaa Abu Jamal, also of Jabel Mukaber, who committed a combined vehicular and stabbing attack in Jerusalem on the same day as the East Talpiot attack. After ramming into his victims with his vehicle, he exited the car with a butcher knife and attacked them, murdering Rabbi Yeshayahu Krishevsky, 60. Abu Jamal is related to the two terrorists who committed the terrorist attack at the Har Nof synagogue in November 2014 - cousins Ghassan and Uday Abu Jamal.

The families demanded Abbas to act to return the bodies. He told them that the Palestinian Authority was making great efforts to have Israel release the bodies.

The Palestinian president stressed in the meeting that the families have a right to bury their sons, whom he referred to as "shahids" (martyrs), and criticized what he called the exhausting conditions Israel sets in what he said was an effort to sabotage the release of the bodies for burial.

The families also bemoaned the home demolition done by Israel, after some of their homes have already been demolished or sealed off by the IDF.

Terrorist Baha Aliyan's father said Abbas could not promise them that the PA will rebuild their homes, as the area is under Israeli control, but promised to monitor the situation.

The Palestinian Authority did not try to hide the meeting, and the official Palestinian news agency reported on it.

This is the second time during the current series of terror attacks that Abbas has been caught supporting terrorists. The last time was when he held a photo of child terrorist Ahmed Manasra, who committed a terror attack in Pisgat Ze'ev, and claimed the 13-year-old had been executed - despite the fact the teen was alive and being treated at the Hadassah Medical Center in Jerusalem.