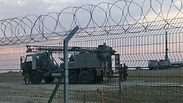 Israel is preparing to combat the threat of terror tunnels, out of which dozens of armed Hamas terrorists threaten to emerge simultaneously, but it seems not to devote enough attention to the threat already coming from the Gaza Strip - the border fence, through which not hundreds but thousands of Gazans will infiltrate Israel. And they are already coming.
2015 was a record year. The IDF Southern Command recorded 140 infiltration attempts last year - in other words, every third night, there was an attempt to infiltrate Israeli territory from Gaza. Security forces arrested 249 Gazans in Israeli territory, and it is likely that there were those who were not caught. This is a quantum leap of several hundred percents in comparison to before Operation Protective Edge in 2014, when, for example, only 19 Gazans were caught after having infiltrated Israel.
Most infiltrators captured in 2015 are job seekers, people willing to risk their lives just to make a living. Defense officials posit that if there isn't a substantive shift in the reconstruction of Gaza this year, the number of infiltrators into Israel could reach thousands.
Even now, Israel has no choice but to double the amount of exit permits given to Palestinians wishing to leave Gaza through Israel, compared to the amount it issued before Operation Protective Edge. After the Egyptians closed the Rafah border crossing, the Erez crossing became the largest pedestrian crossing from Gaza. Although Israel has not changed its official policy on issuing permits, it had no choice but to do so in practice: The closure of the Rafah crossing has created a waiting list of over 50,000 people who already received permission to leave the Gaza Strip and got stuck there. These are college students, people working abroad, sick people, and the like. To prevent an explosion, Israel releases some of the pressure.
This pressure is increased by the fact that very little has been done to rebuild the ruins of Gaza: 53 percent of young people are unemployed, the GDP fell to $1,000 per person, compared to $4,000 per person in the West Bank, and experts in the defense establishment warn that there could be a shortage of drinking water this year. Seventy percent of households in Gaza enjoy running water - for six to eight hours - only every two to four days. Everyone clings onto the commitments made for projects to construct and rehabilitate Gaza's water infrastructure, which will save the Strip from drying out, but out of the $5.4 billion pledged to Gaza after Operation Protective Edge, less than 15 percent of the funds arrived.
The Palestinians in Gaza put their hopes in the construction of a water desalination plant. The permits for it exist, but to build such a facility requires substantially expanding the energy infrastructure. Meanwhile, the amount of electricity supplied by Egypt just goes down, and Gazans have become accustomed to living without a continuous supply of power for days.
Without water, without electricity, without work - people would storm the fences toward Israel. They have nothing to lose.
Even the international aid agencies operating in the Gaza Strip now admit, though not publicly, that it's not Israel that's delaying the reconstruction of Gaza. Most of the blame falls on the Palestinian Authority, which delays the rehabilitation efforts to weaken Hamas. Officials in the defense establishment have more than just a gut feeling that the PA is interested in another military conflict in Gaza.
The Turkish-Qatari initiative to lower tensions between Israel and Hamas over the digging of tunnels is a wasted effort. This axis has ties to Hamas' political bureau abroad, headed by Khaled Mashal, but Hamas' military wing does not care about them – it has already chosen Iran.
The security conflict in 2016 may break out due to the loss of control on the backdrop of a political, economic and social crisis in Gaza. One option is that thousands of Gazans storm the fence – which will inflame the situation on the border - or that the fear of an internal collapse would lead Hamas to another round of armed conflict. Or both.