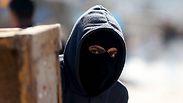 Clashes with the IDF in Qabatiya.
Photo: Reuters
Political initiatives and online outreach: We can stop incitement for terror
Op-ed: This intifada has already reached a point in which military and intelligence initiatives can no longer provide an adequate solution. Israel needs to increase monitoring of social media and arrest main agitators, but also promote a political initiative that includes unilateral moves that could lower the tensions.
The terror attack at the Damascus Gate last week should serve as a waving red flag. The attack that was thwarted by Border Police officers, much like other terror attacks in recent days committed with firearms, signals the natural evolution of the third intifada from knife-wielding lone wolves to armed terror cells.

The transition to this new stage, which is far more deadly and dangerous, is natural because history and experience have taught us that this is an almost deterministic process. As long as the side that has already chosen the path of guerrilla warfare and terrorism remains highly motivated, it will continue looking for effective and painful new ways to cause damage without considering the cost - until its goals are met.

In this case, religious incitement, which was the main generator of motivation for the hotheaded Palestinian youth at the beginning of this wave of terrorism, has now been upgraded with two powerful motives: The thirst for revenge (for relatives who were allegedly executed), and mostly - the desire to imitate terrorists who succeeded, in order to enjoy the fame they did and become "shahids" (martyrs).

This is a new kind of intifada, which social media provides with ideology, organization and logistics, and more importantly - it feeds and inflames itself. For example, it's safe to assume that the 13-year-old girls who stabbed a security guard in Ramla on Thursday tried to imitate the attackers from Qabatiya who murdered Border Policewoman Hadar Cohen at the Damascus Gate. Social media blurred the difference between girls, daughters of Arab citizens of Israel, and the Palestinian youths in the West Bank.

But at the same time, it appears that many young Palestinians have recently came to the realization that the current wave of violence has so far failed to lead to any psychological or physical achievements that could help promote their ambitions. It was probably the wisdom of the crowd, the young Palestinians of the "Facebook generation intifada," which led each of them separately, but more or less at the same time, to the same conclusion.

The young Palestinians noticed that the Israeli public has become accustomed and almost indifferent to the terror attacks over the past five months: The rate of two or three stabbings or vehicular attacks a day does not impress the Israelis, especially as in most of the incidents the perpetrator himself is the one who pays with his life.

What frustrates them even more is the fact that the lone wolf attackers have remained alone. The older Palestinian public hasn't joined them and is not even helping them, quite the contrary. At times, adult family members even try to stop the youth from committing an attack in fear of Israeli punitive action, or to prevent the certain death of their family member. In addition, if they were hoping for international attention, they were disappointed, as the attention of the Arab world has long been directed elsewhere and it is not ready to mobilize for the Palestinians.

It is safe to assume that the young Palestinians' intuition, passion and burning desperation will lead them to try, in addition to stabbing and vehicular attacks, new kinds of attacks, on a bigger scale, that could redeem the intifada from its bleeding stagnation.

These new kinds of terror attacks will include the use of: Firearms, be it improvised or standard, which are found in abundance in the territories and in Israel; IED's (improvised explosive devices), mainly pipe bombs, which local groups use instead of hand grenades that they cannot buy or steal; and above all, the lone wolves will make way for the terror cells, which allow for the distribution and division of labor while committing the attack.

They will do whatever increases efficiency, allowing them to overcome problems and extend the sequence of events, and thus the number of victims. This is exactly what happened at the Damascus Gate. There is no need for advance intelligence gathering ahead of such an attack or sophisticated planning and execution. All that is required is for several terrorists to operate simultaneously to achieve results that are far more deadly than what one or two attackers could achieve.
Using the internet as a weapon
The third intifada is not only far from abating - as defense establishment officials have been purporting based on a statistical decline in the number of disturbances in the territories - it is rather likely to further escalate. It is safe to assume that on the next stage the Tanzim, Fatah's armed militias, will join the Facebook generation intifada, which could expand to an overall popular conflagration, similar to the second intifada. It only takes a spark for us to find ourselves in a murderous conflict with the Palestinians, which will end only after hundreds are killed and thousands are wounded on both sides. It is then that the countdown for the fourth intifada will begin.
One promising measure by which it may be possible to nip this vicious cycle in the bud is fighting the motivation for committing attacks and the actual attackers using social media, something that has yet to be attempted in Israel.
A considerable share of the young attackers were related to or friends of terrorists who were killed. Over the years, many of them have made suspicious statements on Facebook. It goes without saying that it is impossible to deal with every one of them and certainly impossible to arrest all of them, but we can start by monitoring posts of friends and relatives of the terrorists killed in the current wave of terror.
Security forces know how to quickly get to those who exhibit suspicious behavior online, arrest and interrogate them, and then call their parents a few days later and release them on bail. This would delay those who are already mentally prepared to carry out attacks, and will surely deter other young Palestinians from expressing themselves on the internet in an inflammatory manner and from committing attacks. There's no need to arrest anyone who implies on Facebook or Twitter that they plan to become a shahid (martyr). It would suffice to arrest a few from each city or village, and let the message to potential attackers be passed on by word of mouth. There are those in the defense establishment who would know how to do it if only they had the budget for it.
The solution also lies in dialogue
We mustn't, of course, neglect conventional military and intelligence methods, which have been proven to reduce terror attacks: Increasing the arrests of known agitators, based on basic intelligence the Shin Bet possesses. Interrogating these agitators would allow security forces to reach concrete groups they are likely aware of.
Another measure is imposing curfews and closures on Palestinian communities where security forces have identified a concrete threat, or to punish villages after a terrorists from there carried out an attack, as was done in Qabatiya, where the three terrorists who carried out the attack at the Damascus Gate came from.
The immediate demolition of terrorists' homes can also serve as deterrence. If Israel decides to make a move that appears like collective punishment, it must show determination and consistency.
But it's important to admit that this special intifada has already reached the stage in which military-intelligence initiatives, and even cyber initiatives, can no longer provide an adequate solution within a short span of time. A political initiative is now needed, perhaps most than all.
It may be difficult for us to accept it, but the Palestinians, especially young ones, will not recognize our right to exist here any time in the foreseeable future. Even fewer are willing to accept us as occupiers. After all, the majority of Israeli citizens do not think that a binational state is a good idea. On the contrary. But they have no political leverage to overcome the lobbying efforts of the hard ideological core of settlers in the West Bank and their supporters in the government and Knesset, who imprison us and our sons and daughters in a bloody stalemate until the next murderous catharsis.
It's true that, at this time, there is no true Palestinian partner for a diplomatic process, but the Israeli government can make several unilateral moves that would make it easier to control the security situation on the ground as well as send out a message of hope to the Palestinians: Primarily, giving the Palestinian Authority complete control of the East Jerusalem Arab neighborhoods. This does not mean that the IDF and Shin Bet will not be able to enter Abu Dis or Qalandiya when the need arises - based on intelligence. But the residents in these neighborhoods should not have Israeli IDs, which allow them to drive terrorists to attacks inside Israel. Another solution is transferring Area C to the Palestinian Authority, granting building permits to Palestinians and even encouraging projects that could create jobs.
Israel can also hint to the Palestinians that if things calm down, it will consider freezing settlement construction outside the large settlement blocs and releasing prisoners. Each of these political measures, and other similar ones, could and should bring about a change in the current climate, and signal to the Palestinians that their situation could change. This may affect even the hotheaded youths and mostly give parents a good reason to restrain their offspring.