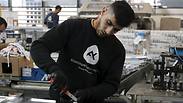 Palestinian worker at Aluminum Construction
Photo: Reuters
Israeli business owners in the West Bank face increasing pressure to move their factories out of the disputed territories, a move that would leave tens of thousands of Palestinian workers without a job. Meanwhile, with 27 percent unemployment, and the fact Israeli companies pay them three times what they'd make at Palestinian places of employment - the Palestinian workers have no choice but to work in the settlements, despite their political views.

When engineer Rami Boneh goes to work each day at his company in the settlement of Ma'ale Adumim in the West Bank, he doesn't see himself as violating international law.

A resident of Tel Aviv, Boneh started his company over 25 years ago, before Israel and the Palestinians signed the Oslo Accord in 1993. He said he was drawn to the settlement because he believed Israelis and Palestinians working together could help support peace.

More than two decades later, Aluminum Construction has $65 million in annual revenue from two plants in Ma'ale Adumim, near Jerusalem, that employ 150 Jews and 400 Palestinians.

Israeli companies argue that they are helping Palestinians in the West Bank - employing about 36,000 - by giving them a far better salary than in Arab-owned businesses.

Meanwhile, a report last month, titled "Occupation, Inc.", Human Rights Watch said the 1,000 Israeli businesses, mainly manufacturing plants, in the West Bank operate in violation of international law because they were built on occupied land, and it called on them to cease settlement activities.

"Settlement businesses depend on and benefit from Israel's unlawful confiscation of Palestinian land and other resources, and facilitate the functioning and growth of settlements," HRW said.

The zones, the report said, contribute to a two-tiered system that "provides preferential treatment to Jewish Israeli settlers while imposing harsh conditions on Palestinians." In many cases they also use Palestinian resources, especially quarries in the West Bank.

West Bank businesses deny exploiting Palestinian workers and say they offer much-needed employment.

Most of the Israeli businesses in the West Bank are located in 16 industrial zones. They produce about $600 million of goods annually - a small amount in Israel's $300 billion economy.

Such industrial parks go back to the 1970s and 1980s and were aimed at bolstering Israel's West Bank presence, while providing cheap labor and giving jobs to a wave of Russian immigrants.
Pressure
Most of the world does not recognize the Israeli settlements in the West Bank, and the European Union now requires origin labels on many goods produced in Jewish settlements - a measure Israel decries as discriminatory.

With pressure growing on settlement firms to uproot, Boneh said he does not know how much longer he will be able to maintain his two plants in Ma'ale Adumim.

"If there's a boycott against us and we can't export then we won't be able to work in this area and we'll have to move to the center of the country," he said.

Aluminum Construction also has two plants inside Israel, with exports the main growth engine. But Boneh's last project in Europe ended three years ago, and while he blames a recession there, he said calls to boycott settlement products could also be a factor.

Many Israeli businesses in the West Bank receive Israeli government incentives if they meet certain criteria.

This is true for companies located in all "national priority regions" - which include Israel's northern and southern periphery and the West Bank. They pay a corporate tax rate of 9 percent compared with the standard 25 percent if they meet criteria that include exporting 25 percent of annual turnover.

Approved enterprises also pay below-value prices for land and the government subsidises 20 percent of investments in fixed assets, said financial consultant Raffi Shlezinger.

Another reason Israeli businesses choose to operate in the West Bank is the availability of Palestinians more willing than Israelis to do labor-intensive jobs.

And while Palestinians often earn twice or three times the salary Palestinian companies would pay, they do not always receive health insurance or compensation for work accidents from their Israeli employers because of work permit issues.

Near the settlement of Ariel, 5,000 Palestinians work in the Barkan industrial park, where international pressure forced companies such as Assa Abloy unit Mul-T-Lock, pretzel maker Beigel & Beigel and Barkan Winery to relocate to within Israel's pre-1967 lines.

After a high-profile battle, carbonated drinks maker SodaStream moved from Ma'ale Adumim, while Dead Sea cosmetics producer Ahava has said it may pull out from the West Bank.

At the Heart of the Conflict

The Israeli company, which had to move its factory from the West Bank to the Negev, has been on the frontlines of boycott battles for over 8 years now. CEO Daniel Birnbaum talks about handling public relations abroad, his Palestinian employees, and bubbly water.

"Once we stop selling or move from here like other companies did, the Palestinian workers have nowhere to go," said Moshe Lev-Ran, head of exports at Barkan's TwitoPlast, which makes air conditioner parts and whose plant is managed by a Palestinian.

Lev-Ran said his firm looked into moving from the West Bank but it was expensive and his clients aren't interested in where he is located. Nonetheless, Lev-Ran, said he wouldn't recommend opening an Israeli business in the West Bank now.

"Who needs the headache?" he said.
Working for Israelis is the only option
Mohammad Arbassi, a 56-year-old father of five sons from the West Bank village of Qira, has a diploma in finance and big plans for his children, two of whom are at university.
Yet despite his education and personal drive, for the past 12 years he has worked as a builder on construction sites in the Israeli settlement of Ariel, not far from his village, earning NIS 150 a day ($38). It's the best job he can get.
"You ask why I would accept such a poor job," he says, pursing his lips. "I will say I didn't have a better offer."
Arbassi and others like him feel there is little choice but to do the work, even if it makes them uncomfortable. The Palestinian economy is struggling, with unemployment at 27 percent. While settlement jobs may offer no overtime, pension or work insurance, the higher wages offset the shortfall.
"Palestinians pay only NIS 70-80 a day for work in Palestinian areas," said Arbassi, pointing out that a kilo of meat, the amount needed to feed his sons, costs 70 shekels.
Ouda Daqdouq, 26, has worked various settlement jobs since he was 16, earning up to NIS 250 a day. Now married with two children, he can't afford to stop, even if it frustrates him.
"I had an accident while at work in the settlement of Borkan and I could not work for a week, but there was no insurance and they didn't compensate me," he says. "There is no choice. We work in settlements so we can feed our children."
Shaher Saed, the general secretary of the Palestinian Workers Union, is quick to acknowledge the dilemma.
"In principle, we would prefer to stop people working in settlements," he told Reuters, saying around half the 36,000 Palestinians doing the work don't have proper permits.
"What reinforces the situation is the trade between settlements and the private sector," he said. "Even in some settlement industrial zones, there are partnerships with Palestinian (businessmen)."
Israelis frequently point out that settlement businesses benefit Palestinians by paying them more. But Saed calls it a false argument, one that excuses the occupation and undermines the ability of Palestinians to develop their own economy.
"It does not help a worker build a decent job," he said. "It is not an organized working environment and at the end of the day, Palestinian workers are being exploited."