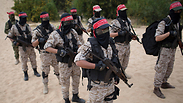 חמושים פלסטינים ב אימונים טיל מתקפה חמאס עזה
Photo: AFP
Hamas is in operational distress, and we, for some reason, are starting to panic about war. Sure, the Palestinian media has indeed been reporting for the past few days on heavy armament operations by the IDF in the southern Gaza strip (inside Palestinian territory) but not a single bullet has been fired in that zone. It isn't Hamas that's going to war—it's Hamas that's at a loss. But the drums of panic are beating incessantly, as though we had nothing else that we needed to worry about.

This isn't the first time that headlines may lead to a confrontation following what the defense establishment has termed "Hamas's miscalculation." Or, in other words: an incorrect reading of Israeli steps and especially pronouncements. Recently, a few events have taken place here and some comments have been made that are not necessarily connected. This sequence created false connections that led to a feeling of preparedness and alertness ahead of a conflict in the south.

It's not surprising that Israel and Hamas have been exchanging mutually calming messages over the past few days. It goes without saying that the Palestinian side did not see any sign indicating an offensive.

Hamas's arms race has not changed in recent days, just as Israel's arms race against Gaza hasn't changed. If there is any change, it should worry more than just Hamas. In this race, the winning side will have more means, more technology and more manpower. Hamas has not succeeded in smuggling in standard rockets (which are deadlier), and their local production, resumed following Operation Protective Edge, is not of a high enough quality.

In contrast, Hamas is attempting to strengthen its entire offensive network, which is intended to wreak havoc in the Gaza border region. The goal here is to force Israel to agree to a ceasefire quickly and under Hamas's conditions: They don't have a great success rate in this field, either.

When we compare the factors pushing for a confrontation in Gaza to the factors encouraging restraint, the result isn't balanced. The factors pushing for a conflict are the military wing of Hamas (which is not likely to accept the political wing's authority) and the fact that the Hamas leadership is failing both to rehabilitate Hamas's standing in its area and also to physically rehabilitate Gaza. All this could cause Mohammed Deif (the head of Hamas's military wing) to lead an independent military operation.

On the other hand, at the top of the list of the restraining factors is Hamas's political standing. Hamas doesn't currently have a patron in the Arab world. The Muslim Brotherhood is weak in the region: Jordan recently shut down their branches; they're being chased out of Egypt; Kuwait and Saudi Arabia have outlawed them.

On Saturday, at the Organization of Islamic Cooperation summit in Turkey, Iran (terrorism's patron in the Gaza Strip) was "deplored (for its) interference in the internal affairs of the States of the region…and its continued support for terrorism." Iranian President Hassan Rouhani left the summit in disgrace before its conclusion.

Egypt has strengthened its grip on Gaza and won't tolerate any violence on Hamas's part in the near future. Simultaneously, Hamas has been careful not to join from Gaza any of the confrontations in the West Bank. This is part of Protective Edge's deterrent.

The IDF's Southern Command has completed its defense plans vis-à-vis Gaza and has increased its strength.

Hamas's military rehabilitation is partial. If it decides to break the rules tomorrow morning, it would be a crazy decision for them. But Hamas is a very calculating organization; it doesn't intend to lose the assets that it has accumulated in one frenzied moment. The lessons of the last round of panicking should taken to heart. Such rounds, which aren't backed up by facts and are fed mostly by anxiety, can lead to a real outbreak.