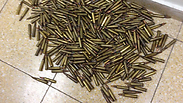 Ammunition seized
Photo: Police
IDF and Judea and Samaria Police forces uncovered two lathes used for the production of weapons and pipe bombs in the village of Abu Dis in East Jerusalem overnight Wednesday.

In one of the shops, Israeli forces found and seized raw material for the production of explosive devices, ammunition, two old handguns and several grenades. One suspect was arrested.

Over the past few months, police and IDF forces raided two lathe-shops in the Hebron area, considered the center of terror activity in the ongoing wave of violence, where they fund machines used to produce makeshift weapons.

Among these makeshift weapons is the Carl Gustav recoilless rifle, over 20 of which have been seized so far. In addition, Israeli forces seized 18 hunting rifles and a similar number of makeshift handguns.

The hunt for the illegal arms stockpiles in the territories has increased in the wake of the past six months of attacks, including the combined vehicular and shooting attack in Kiryat Arba in March, and the shooting attack in the Jerusalem neighborhood of Ramot that same month.

"In addition to the arms stockpiles we're aware of in the West Bank, the amount of lathe-shops has grown. Inside a storage unit you could make a handgun or even a rifle using a hidden machine," an official in the Judea and Samaria Police explained. "We're working based on intelligence, and over the last few months we've arrived almost every day at houses in which weapons were being manufactured. There are big arms stockpiles and we will continue operating against them."