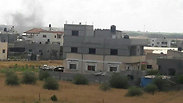 IAF attacks in Gaza on Friday
IAF strikes Hamas targets in Gaza after rocket fired at Israeli civilians
Rocket falls in open area in Eshkol, causing no injuries or damage; it is the first rocket over the past week to target civilians rather than IDF forces, after some 16 mortar shells were launched at troops operating near the border.
Israel Air Force (IAF) fighter jets attacked two Hamas targets in the southern Gaza Strip early Saturday in retaliation for a rocket fired at Israeli civilians.

The rocket, fired shortly after midnight, exploded in an open area in the Eshkol Regional Council. No injuries or damage were reported. A Code Red rocket alert siren was sounded before the rocket fell.

So far over the past week, Hamas has been firing mortar shells only at IDF forces operating in the border fence area in search for border-crossing tunnels. The rocket fired overnight, which was aimed at civilian population in the Gaza border communities, constitutes an escalation in recent tensions in the area.

Over the past week, some 16 mortar shells were fired at IDF troops in at least 12 incidents, which is double the amount of mortar shells and rockets fired from the Gaza Strip into Israel since the beginning of 2016. The latest rocket fire against troops was on Friday morning, when two mortar shells were fired at forces operating near the border fence in southern Gaza. No one was hurt and no damage was reported. The IAF attacked Hamas observation posts in retaliation.

In light of the escalation on the border over the past week, Prime Minister Benjamin Netanyahu convened the security cabinet on Friday. The Prime Minister's Office said that the cabinet "received an update from security officials on IDF operations in recent days and on the discovery of the latest tunnel."

In a speech he made ahead of the Friday prayers, deputy Hamas leader Ismail Haniyeh claimed that "We are not calling for a new war, but we will not allow incursions or imposing facts on the ground by Israel in Gaza."

Haniyeh explained that the Palestinians objected the Israeli prohibition on Palestinian traffic in the "perimeter," a 300-meter buffer zone inside the Strip and bordering the frontier.

"We say no to the perimeter inside of Gaza's borders, and Israel must understand this," he stated. "We are in contact with Egypt, Qatar, Turkey and also with the UN's (Special Coordinator for Middle East Peace Process) Nickolay Mladenov to bring an end to the Israeli escalation, and these efforts are continuing."

Hezbollah leader Hassan Nasrallah also talked about the escalation in Gaza on Friday, saying, "We need to direct the world's attention to the Israeli aggression, bombardment and operations in the Gaza Strip in recent days. Everyone must condemn it so Israel doesn't continue with its aggression."