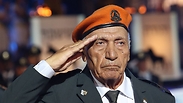 דוד רוקני חזרה גנרלית ל טקס ה משואות יום העצמאות 2016
A moment before his final torch lighting ceremony, Col. (ret.) David Rokani, 84, was greeted by rapturous applause as he came out to his final dress rehearsal as Master of Ceremonies for the Independence Day celebrations.

Col. Rokani is thought of as the symbol of the Independence Day Ceremony, and has been the Master of Ceremonies for the past 34 years.

Col. Rokani's final dress rehearsal (צילום: עפר מאיר)

Even in his old age he's led and marched in the event. At the end of the event on Wednesday night, he will hang up his uniform, and pass the position to the new Master of Ceremonies.

Rokani is a resident of Ramat Gan and served in the Golani Brigade for 34 years as a part of the General and Training staff. He will be replaced by Lt. Col. (ret.) Shimon Deri.

The Col. is "training" Deri this year, and next year, Deri will be the Master of Ceremonies for the event.

The ceremony to open the Independence Day celebrations will be to honor "Israeli heroism."

Amongst the torch lighters will be the Deputy Commander of the "Megilot" search and rescue unit Gabi Barshisht; Border Policewoman Staff Sergeant Alison Berson – who shot at two terrorists attempting to carry out a stabbing attack at Tzomet Tapuah; and bus driver Hertzel Biton, who was wounded fighting off a terrorist attacking his bus.