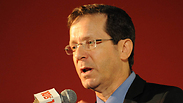 Isaac Herzog, Photo: Yisrael Yosef
Photo: Yisrael Yosef
Op-ed: Herzog needs to take a clear position
Isaac Herzog still has not expressed a clear policy that could allow him and his party to join the government; the opposition leader should start by stating clearly that he supports freezing settement building outside the blocs, a policy that Netanyahu has verbally supported previously.
Bringing the Zionist Union into the government could have been a bold demonstration of leadership.

Isaac Herzog could have said: I achieved an important accomplishment that serves Israel's national interest. Even though that did not happen, Herzog can still demonstrate leadership by making a clear statement: I tried and wanted to achieve a unity government, but I will not concede my principles for jobs or the Foreign Ministry. I did not demand much and I did not demand the imposition of the Zionist Union's platform on the government. All of my demands were accepted by the majority of the public. However, during the talks, it quickly became clear that Netanyahu wants the Zionist Union to serve as a fig leaf. We will not sell ourselves out.

Such a statement would have been received as a moral and bold leadership statement. And Herzog still has time to make it.

In the past year, Herzog has turned into a punching because of all the media leaks about his effort to establish a unity government. He has consistently denied it and says it is not on the agenda. He always seems to bend his words. But if he is doing something that he believes in--he needs to clarify what he is doing and why he is doing it.

Even now that is clear that talks are taking place, Herzog has not changed. While he is no longer denying the existence of talks, he still has not provided any serious explanation for them.

A unity government is not a bad idea. Political polarization in Israel requires efforts to reach a lowest common denominator. And therefore, Herzog's effort is not unacceptable.

It is not that no differences exist between the various political groups. Of course, there are differences. Isolated swathes of society are moving further to the left and the right. But, in total, 70 percent, if not more, of the public has a shared ethos, one that necessitates a unity government.

But a unity government should only be formed on the condition that it makes a difference. A right-wing, ultra-orthodox government cannot turn into a left-wing government, but it can and needs to turn into slightly more moderate government. The gaps are small on economic issues and most Zionist Union members of Knesset (MK) accept Moshe Kahlon as Finance minister.

The widest gaps are on diplomatic issues, but they are not wholly insurmountable. Settlement building is ongoing and of the various controversial issues between Israel and Europe and America, settlement building provokes the most tension. Israel's allies cannot understand how it is possible to talk about an agreement and at the same time to continue to expand the settlement enterprise.

Herzog knows that an agreement is not on the agenda, but that does not mean that nothing can be done. In fact, something can be done--freezing settlement building outside the blocs. At least once, Prime Minister Benjamin Netanyahu has said himself that he backs such a policy, but has done nothing to implement it. As long as it continues, settlement building can turn Israel into a bi-national state. It is a slowly forming disaster. Thus, a unity government is needed to stop it. Herzog should say: This move serves Israel's national interest.

But instead Herzog has not accomplished anything and just yesterday he half-heartedly acknowledged that. He is supposed to receive the desirable post of Foreign Minister, but it is not clear which policies he will represent. Will he defend settlement building outside of the blocs? There are a number of other jobs that his party could receive. But jobs and no change constitute a mockery. Selling out will be the end of the Zionist Union.

While Herzog still has not found leadership, he still has time to do so.