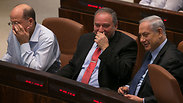 Ya'alon, Liberman, and Netanyahu.
Photo: Ohad Zwigenberg
Netanyahu is jeopardizing Israel's national security
Op-ed: The Prime Minister is making political experiments at the public's expense, replacing an experienced and professional defense minister with the inexperienced Lieberman. The dramatic move clearly signals to the military that the values they're used to cherishing are no longer of the utmost importance.
The termination of Defense Minister Moshe Ya'alon and his replacement by MK Avigdor Lieberman are an irresponsible act by Prime Minister Benjamin Netanyahu. The PM is jeopardizing our national security to an unreasonable level, out of sheer political convenience, surrendering to the extreme right-wing of his party. Switching in Lieberman for Ya'alon is also an immoral act. Netanyahu is thus signaling to the IDF, Shin Bet, and Mossad high commands that they should not speak out in ways that may defy the government, as whoever strays from the path could be removed from the road.

The immediate damage is due to the PM's lack of responsibility. He is replacing a skilled, experienced, cool-headed, reasonable defense minister whose strategic abilities have been proven effective more than a few times with an MK who has virtually no security experience, whose character is unpredictable, and who will need to make decisions that could affect all of our lives from moment one.



Ya'alon achieved many things throughout his military career. Commanding the Paratroopers' Brigade special forces, the elite Sayeret Matkal commando unit, being the IDF chief of staff, and being defense minister in two different governments, just to name a few. He made mistakes as well, but those are negligible in the context of the consistently solid judgment he displayed as a commander and minister.

Israel's defense minister doesn't necessarily have to be a military man. He could be a civilian and do well in the role, as former defense minister Moshe Arens has shown. But the minister must have some experience, as well as an understanding of security matters, in a way that allows them to make decisions and approve operations in a matter of hours.

Even if we assume that Netanyahu's experience on these matters can cover for Lieberman's lack of it some of the time, we need to keep in mind that a defense minister makes dozens of far-reaching decisions every week on their own, without consulting the PM. The defense minister is also the one who approves operative plans, acquisitions requests, etc., before they're even presented to the prime minister and Security Cabinet. The minister of defense is a kind of bouncer, and we are now set to see if Lieberman will let operative plans though the door even if they don't happen to line up with his political views.

Now, a man who has suggested bombing the Aswan Dam and turning Gaza into a soccer field is expected to sit in the Defense Ministry's headquarters in Tel Aviv. We should remind ourselves that these kinds of statements turned Lieberman into a persona non grata in Egypt during his days as foreign minister. The security cooperation with Egypt is a cornerstone of Israel's security, in a time when ISIS is threatening our borders to the south and north. It's not difficult to imagine Egyptian President al-Sisi's response when he hears about his new work partner.

Moreover, the international community, including the United States, won't see Lieberman's appointment—and Ya'alon's termination—very favorably. It's no secret that Ya'alon wasn't terribly beloved by the Obama administration, since he had a tendency to be somewhat overly expressive with some of his negative opinions, but the Americans nonetheless respected his skills. He knew how to negotiate with them and with their defense secretary.

Finally, a word about the message this sends the military, and the damage that the public termination of Ya'alon—a man who wasn't too far from Lieberman politically, but who knew how to express himself respectfully, and show reverence to human dignity—may cause the security apparatus in Israel. This move may bring about what Ya'alon and IDF Deputy Chief of Staff Yair Golan warned us about: The IDF senior command's cowing, causing it to tailor its reports and operations according to the whims of the most extremist and loudest parts of the ruling party, instead of putting the country's national security needs first.

This dramatic move sends the IDF the clear message that the values they're used so far to guide their way are no longer applicable. From now on, the values they are supposed to follow will come from more biblical sources, mainly, "If a man comes to kill you, rise early and kill him first." Even if that man has no ability or proper means to implement his intentions. This is not only immoral, but intensifies the danger of any 12-year-old Palestinian girl with a pair of scissors sparking a large-scale—and deeply unnecessary—conflict with the Palestinians.

Those who pay the highest price for this will be the Palestinians, but the soldiers of the IDF and the citizens of Israel will also suffer. The international community will accept the Palestinians' claims that Israel is "executing children." Lieberman replacing Ya'alon sends a signal to this country's hotheads and fire-starters from the "correct" side of the political spectrum, no doubt making them feel more comfortable with lighting their next match.

It's a shame that the Prime Minister is performing political experiments at the expense of the security of his nation's civilians. The day Lieberman sits down on the defense minister's chair, I know I, for one, will sleep much less easily at night.