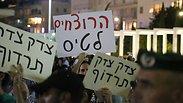 Breaking the Silence protest (Photo: Motti Kimchi)
Photo: Motti Kimchi
Shlomit—not her real name—has decided to break the silence. She used to be an activist one of the social NGOs. She was invited to a conference for NGO activists, mostly ones dealing in human rights. She couldn't believe the things she heard there, including words of derision that delegitimized Israel's right to exist. She was shocked, with those experiences serving as a major eye-opener.

In the past, I have brought her words to print anonymously, despite the fact that her real name is no secret. This was due to the fact that she had previously written a letter to the heads of the NGO that organized that conference, warning them that this kind of discourse was going on in their name and on their dime. She never got a response. They could have looked into it, but instead they chose to come out against her, trying to discredit her and claiming that nothing of the sort had ever happened, when in fact, it did.



This time, it is Breaking the Silence. They don't try to hide their agenda, but their methods are nevertheless problematic: when they testimonies they gather are given anonymously, there is no way to fully corroborate what had happened. Every once in a while, when the names of those who had given their testimonies are made public, the other soldiers in their unit claim that it was all a bunch of lies.

What we are left with then are the anonymous testimonies themselves. When the military court wants to verify a certain testimony, it is faced with the same problem, since those at Breaking the Silence refuse to divulge any identifying information. What is the value of a testimony that cannot be corroborated? To paraphrase Popper's falsiability principle, information that cannot be refuted, is not information at all. Hypothetically, you could gather information on members of Breaking the Silence, accuse them of raping underage girls and cooperating with Hamas. You could then publish these "testimonies" in five different languages, while making it clear to them that the identity of their accusers will not be made public. The reason? So as not to disrupt the information gathering process. This means, of course, that the accusations could never be disproved. You're just going to have to trust us, Breaking the Silence would be told. We're doing this out of love for your organization. We're just looking to improve it.

Despite the organization's radical motivation and the anti-Israeli propaganda perpetuated by some of its members, Breaking the Silence may have indeed gathered testimonies on substantial oversights. Such cases need to be examined, perhaps even lead to criminal investigation and indictments. This is what constitutes a civilized society. But the organization demands to be given a privilege that flies in the face of the law and common sense: we will vilify, publicize our findings throughout the world, but never allow for an investigation to prove or discredit what we say.

There is a clear difference between constructive criticism and a horror show of propaganda. Breaking the Silence could choose the former option, but instead it has chosen the latter. Any organization that sends representatives to tell journalists, diplomats and foreign activists that IDF soldiers fire machine guns at civilian populations as if in a video game, and tell UN delegates from Iran and Sudan that Israeli soldiers are looters and criminals, does not deal in legitimate criticism. Rather, it is part of a system bent on Israel's demonization.

Among others, Breaking the Silence cooperates and gets its funding from sources that support the BDS movement. It is not interested in improving Israel's morality, but to deny Israel's right to exist. Based on all of this, in addition to discredited public testimonies, should Breaking the Silence be allowed to continue with its uncorroborated slander? Is this what amounts to criticism, democracy and due process?

In a democratic country there is room for soldiers to criticize actions that took place during their army service. There are, after all, exceptional cases that should be dealt with, just as there is an ever-present need to correct and improve what is currently considered acceptable conduct. But Breaking the Silence has chosen a different path. It wants to be above the law, to vilify without being held accountable. Israeli authorities should not lend a hand to this kind of trickery.