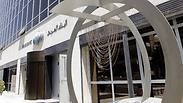 NEW YORK - Arab Bank PLC has reached an agreement to settle litigation, according to a court filing. The agreement is with American plaintiffs who had accused the bank of facilitating terrorism attacks in Israel. At trial, the plaintiffs said Arab Bank knowingly maintained accounts for Hamas terrorists and facilitated payments to families of suicide bombers and Palestinians imprisoned or injured during the Second Intifada which raged from 2000–2005.
Follow Ynetnews on Facebook and Twitter

The settlement is linked to the outcome of an appeal of a jury's 2014 verdict finding the bank liable.

US District Judge Brian Cogan in Brooklyn, New York, signed off on a $100 million judgment Tuesday for 16 plaintiffs whose cases were set to be the subject of a damages trial that was called off after the settlement was announced in August.

But the order, which was acting on a joint stipulation from the parties, also indicated that Jordan-based Arab Bank planned to move ahead with an appeal of the verdict finding it liable in connection with two dozen terror attacks attributed to Hamas.

The parties confirmed on Wednesday that the amount Arab Bank owes will be dependant on that appeal.

Gary Osen, a lawyer for the plaintiffs, said in an email the plaintiffs' "recovery will be substantially affected by the outcome of the appeal."

The confidential settlement covers 527 plaintiffs, including the 16 whose case was to be subject of the damages trial, and resolves claims they brought under the US Anti-Terrorism Act.

The plaintiffs included both victims of attacks carried out by Hamas and other groups, and family members of the victims.

Arab Bank in January said it had accumulated $1 billion in provisions for the case over the last few years that would cover "expected obligations" under the settlement agreement.

In a joint statement, Arab Bank and the plaintiffs said a "prompt appeal will avoid any unnecessary delay in the plaintiffs' recovery and result in a definitive resolution of liability issues for all 527 plaintiffs."

The September 2014 verdict marked the first time a bank was held liable in US court for violating the Anti-Terrorism Act, which permits US citizens to pursue claims arising from international terrorism. The verdict covered 310 plaintiffs. .

The case is Linde et al. v. Arab Bank, US District Court for the Eastern District of New York, No. 04-2799.