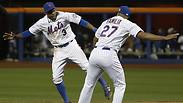 Major League Baseball (MLB) players.
Archive Photo: AP
Israeli technology presented to leading US sports leagues
Group of representatives from 13 Israeli companies visited San Francisco and New York to show the world's leading companies their innovative sports technology ranging from sensors monitoring athlete performance, real-time video analysis to ways of connecting brands to fans, and more.
A delegation comprised of representatives from 13 Israeli companies went to New York and San Francisco last month in order to meet officials from the four leading American sports leagues: Major League Baseball (MLB), the National Hockey League (NHL), the National Basketball Association (NBA), and the National Football League (NFL).

The delegation representatives went to the meetings to present the leagues' representatives with new and innovative Israeli sports technology.

The Israeli delegation members also met with communications industry leaders and investors. The technological innovations presented included sensors used to monitor the activity and performance of athletes (or regular gym goers), real-time video analysis – which can be combined with video games, new ways of creating connection between fans and brands, and more.

The delegation was formed as part of an initiative by the Israel Export Institute, as well as the Israeli Economy Ministry's representative offices in New York and San Francisco.

Gili Ovadia, Economy Ministry trade attaché on the West Coast of the United States, commented on the delegation's activities: "As far as I'm concerned, it is very exciting and a great success to have the Israeli companies meet with the biggest names in the industry—among them sports teams such as the (San Francisco) 49ers, (Oakland) Raiders, (Los Angeles) Dodgers, (Golden State) Warriors, media groups, leading Silicon Valley venture capital firms, and technology companies who are at the forefront—From Twitter to Sony (and) HTC," said Ovadia.

"The hundreds of meetings that were pre-arranged for the Israeli companies are the best testimony for Israeli (tech) industry's power and innovative spirit."

Nili Shalev, Economy Ministry trade attaché in New York, said, "The branches of the trade attaché office in the US are working in conjunction with the Export Institute in order to expose Israeli innovation in a wide range of technological sectors. In the past few months, we've hosted dozens of Israeli companies in the US (that deal with) augmented reality, IoT (the Internet of Things. -ed), virtual reality, cyber, protection of the homeland, and educational technologies. The sports technology delegation was a great opportunity for us to expose Israeli innovation and create business opportunities in one of the 'hottest' and most popular business areas in the world."

This story was written in cooperation with the Israel Export Institute.